I've diceded to start a new series reviewing my favorite thing in comic books and that is villains, Whether their popular or obscure awesome or down right stupid I'm gonna review them and tell you what I think about them and then ask you what you think about them😁
Today's villain is Monarch of Menace: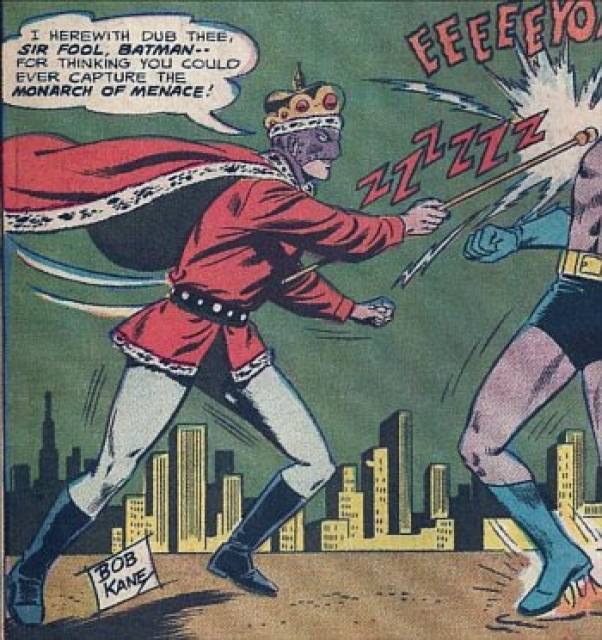 Now there isn't much on are classic bats rouge but I always found him a fun 60's villain, he's just a regular guy who believes he's the greatest criminal (don't they all)
Now a cool thing about Monarch is that he actually escaped from batman and got away for a few years without ever being Identified by batman but after his son took up the Mantle of Monarch of Menace and then got caught by batman the original Monarch of Menace was upset so he came out of retirement and tried to once again commit a crime and escape but this time batman was ready for him and he got caught at last.
He then returned again but was easily beaten again by batman and now hasn't been seen since 1981 though he has been reference in a few comics.
Now we're gonna go over what I think they could do with this character.
personally I think he should come back not as a major villain but as a side story villain and if not that put him on the suicide squad and kill him off in the first issue he would be the perfect kind of villain for that.
Now we're gonna rate this villain in a few different kinds of categories 😎
Costume: I'd rate it a 4/10 it's a little blan
Powers/weapons: 3/10 he doesn't really use anything besides a electric staff
Gimmick: 6/10 just another criminal who thinks he's from the olden days
Evilness: 2/10 Monarch isn't really evil more just wants to prove he's the best which isn't all that surprising with villains back from the 60's and he kinda almost was for a little while
Over all: I'd say 5/10 he's not the worst or most boring villain I've seen but he could use some improvements though I'd love to see him return.
His character page
https://dc.fandom.com/wiki/Monarch_of_Menace_(Earth-One)
What do you think of this villain? 🤔