Ratcatcher 1 Otis Flannegan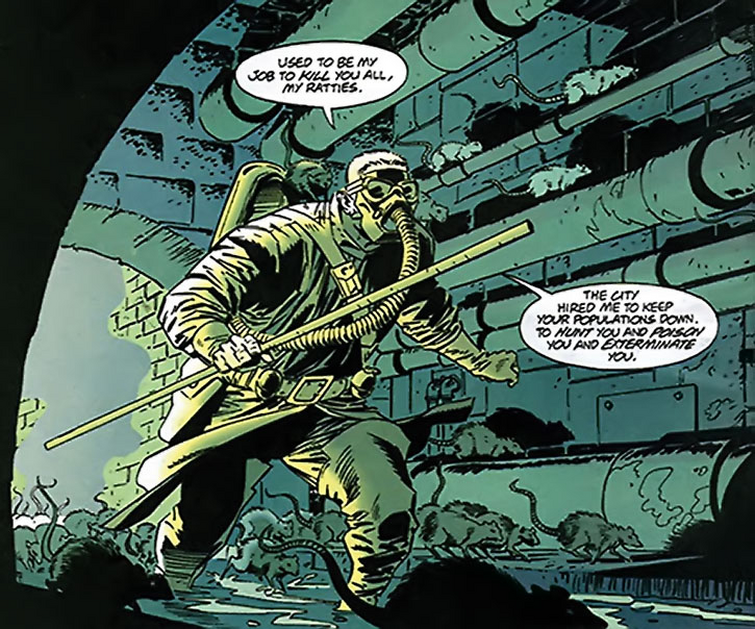 Otis Flannegan was a troubled man who made a career for himself as an exterminator for Gotham. Most nights he'd spend his meager pay drowning his sorrows at his local bar until he got into an altercation resulting in the murder of his assailant. Otis would be arrested, trialed, and sent to prison for his murder.
Otis eventually broke out of prison, dawned the persona of Ratcatcher and orchestrated the kidnapping and murder of the Judge and members of the Jury using the Gotham sewers as his hideout and rats as his minions (he can control them with a whistle) until Batman confronted defeated him and sent him to Arkham.
Like with most of its inmates, Arkham proved to do more harm than good to Otis's sanity and had pushed him to be estranged to the Human species resulting in him finding kinship in vermin and internal guilt for his previous career. When Otis was put on parole he was able to escape using his flute summoning hundreds of rats to kill his captors, now back in the sewers Ratcatcher plans to turn Gotham into a Rat Utopia, until Batman stops him again and again like any of his other rogues.
Ratcatcher 2 Cleo Cazo
(Movie Fan Art from Jim Lee)
Ratcatcher 2 has only appeared in the recent Suicide Squad movie (the good one) and is very much a victim of circumstance her father, Ratcatcher 1 (obviously not Otis Flannegan) was a brilliant man suffering from drug abuse who had invented a device that controlled rodents of which he used to steal expensive items to provide feed his addiction and to provide for his daughter.
Ratcatcher 1 would eventually overdose leaving Cleo not only homeless but also orphaned, pushing her into a life of crime involving a string of bank robberies up until her arrest and the start of the movie.
Could both versions mesh well together?
I honestly believe that both Ratcatchers would suit each other just fine and could lead to interesting stories be it on TV or in extended comic runs as reoccurring side antagonists to the Caped Crusader. Otis before delving into complete insanity could easily have had a daughter and she could be the only human he truly loves when he does succumb to madness and Cleo's characters wouldn't have to change too drastically as she'd still love her father despite his vices, both his Alcoholism and Rat obsession.
I can see Otis Flannegan facing off against Batman through two eras (Dick Grayson and Jason Todd) possibly roping his daughter into the later stages of his criminal career until in some way he is killed during an altercation with Batman. Cleo Flannegan could take on the Mantle of Ratcatcher in the next two eras (Tim Drake and Damian Wayne) starting at first reluctantly but out of respect for her father but later out of a sense of revenge and self preservation after his death, blaming Batman for his demise and starting the road towards insanity herself.