Welcome. To the first post on the topic... The Worst DC Movies in history. Our first instalment in this hopefully harmless saga... is the 2013 Superman Movie "Man Of Steel" Directed by Zack Snyder and starring Henry Cavill.
I'd like to open by confessing that I did not actually rewatch this movie recently as I said I would. I'm serious when I say that I couldn't bring myself to. I watched Detective Pikachu instead. Zero regrets, that movie's a 7.5/10, it's pretty fun.
Instead, I will still review the film. Because I remember it. Almost by heart. I've watched scenes and breakdowns since viewing the movie for the first time and at this point remember it better than I remember some movies I've watched many more times than it. Don't worry, I'm still a reliable source. I promise I'll watch the next movie, and I'll force myself to do it.
So without further ado, let's look at Man Of Steel... and score it because it's a stupid grading system that somehow still works.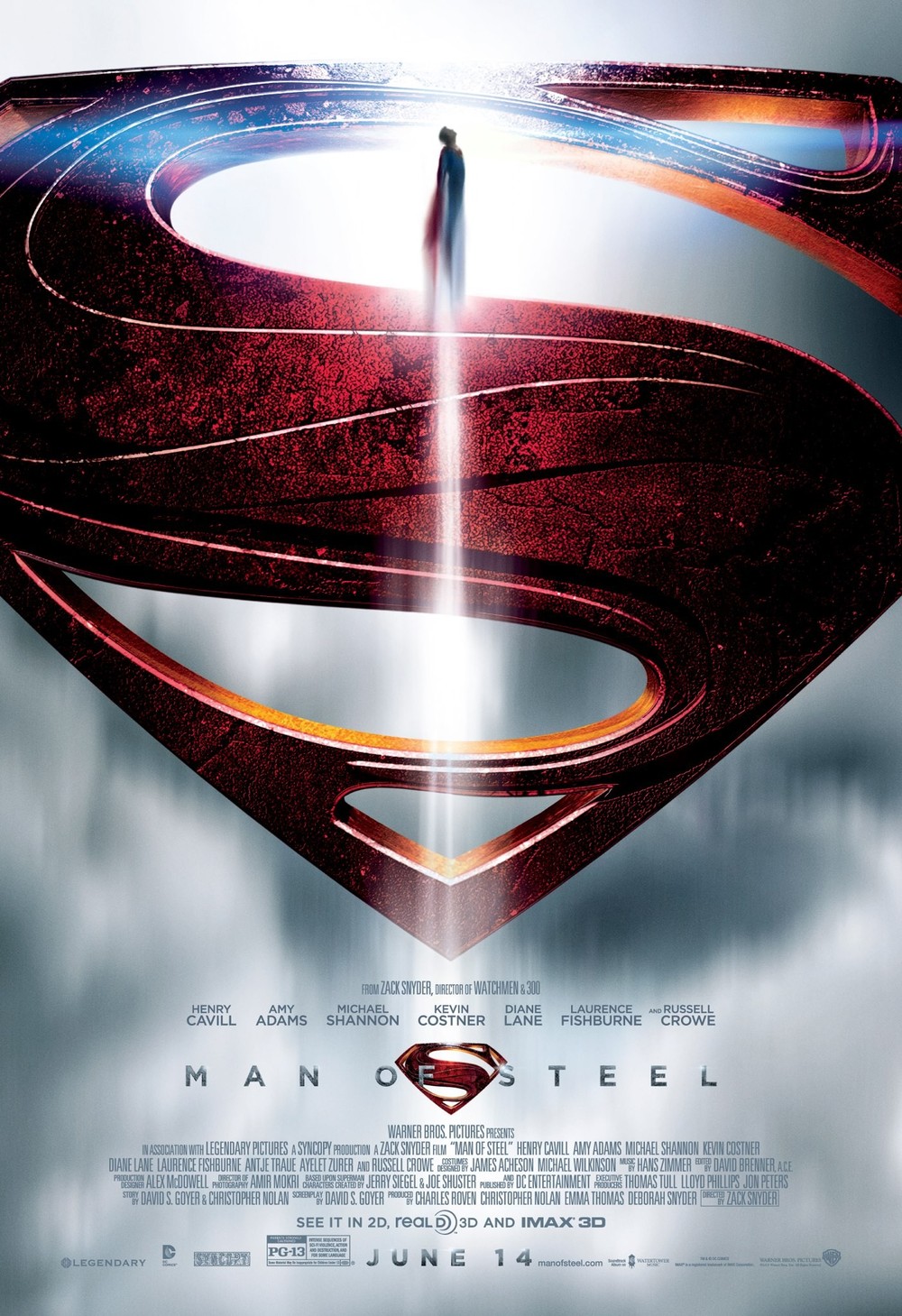 Scene By Scene Breakdowns:
So the movie gets the classic Superman origin story correct, and it even throws in some content on Krypton moments before and during its destruction. These parts are... not bad. They definitely make the movie longer, and sometimes it feels as if it's just there for that purpose (To extend the film's run time) but I'll admit it's an alright way to start the film. Sometimes more subtle approaches to starting a Superhero Movie work better than this though. It also doesn't help that the scene itself is incredibly long, it lasts like 15 whole minutes and all it really is is Krypton blowing up and Superman's Bio-Daddy punching some bad guys or something. Eventually little baby Kal-El is shot to space and Krypton blows up. We all know the rest.

The next... while... of the movie focuses on Clark's life growing up. In fact, I think it also focuses on his present day life too... at the same time? Basically it cuts between Present and Past day, showing multiple "Flashbacks" and "Flashforwards" both taking turns on screen. This method of storytelling rarely works in my opinion, and even though this film has more bearable moments within it, it doesn't make up for the fact this isn't an intriguing way to tell about the character's past. My advice: don't do this, do it the traditional way... either by going in chronological order of events or by having a few flashbacks only when they can also relate to the current situation the character is in. Anyways, during this, Clark's Adopt-O-Daddy is kind of a dick... he really doesn't want anyone to know about Clark's powers. I mean this is interesting to toy with but it's done very poorly here... especially when he fucking dies when he stops his grown son from saving him to ensure his powers aren't revealed yet. His death scene is also kinda stupid. The hurricane, or tornado, or whatever the hell it was (Forgive me for not remembering every minor detail) pretty much comes out of nowhere and kills Johnny Kent. Ok then.

The parts of Present-Day Superman (which I admit I liked, it was cool to see how Grown Up Clark could deal with tough situations while still staying loyal to his father and not exposing his powers just yet) eventually lead up to him discovering a Kryptonian Ship on Earth or something and then getting a Supersuit [Insert Frozone Meme] which he takes for a little test drive by flying around. I thought this part was well shot. It was a pretty neat scene. Normally I'm not a huge fan of Snyder's Filming Style (which, we will get into later) but I think the effects were cool here. People praise Snyder for his Montage Scenes, and I can't argue that. Even the montages in Batman V Superman were pretty cool.

And now there's the bad guy. ZOD!!!! He was apparently a very dangerous man on Krypton and did some mean stuff to Superman's Bio-Daddy, and now he's been freed from the Phantom Zone, along with his comrades, Bill and Blake. Those are totally their names. Totally not names I made up to replace the names I forgot since they were such meaningless characters. Bill and Blake. Sidekicks to Zod. Yes. Anyways, now they're on earth, and I think they want to fight the Kryptonian who is on the planet, I think. There's not much to remember in this part of the movie but...

...now this is where it gets bonkers. The last hour of this... is just pure destruction. Borderline apocalyptic mass city levelling. It starts when the Zod Squad goes to the Kent Farm, threaten Clark's Adopto-Mommy, and then Superman loses it and destroys a 7-Eleven while battling Zod. And honestly, I cried more at this part than I did at Johnny Boy's death. Rather see him go than the Slurpees! Heh... and it only gets bonkers-er from here. Fast forward 50 minutes and the entire city is just... wow, it's completely destroyed. This was one of the DCEU's biggest mistakes, because in my opinion, you should never start off a trilogy, saga, or collection of movies by introducing this much destruction in the very first movie. It would make the next movies feel bland in comparison, because you've already seen worst-case scenarios, and also, Jesus Christ there was just way too much damage. Yeah it shows Superman can't do his 'job' perfectly but come on, I don't blame the city for hating him after there literally was no city left. If you got your mind sucked into this destruction and your brain just said "Fuck it, I like this movie because it's got explosions now" I pity you. You can like this movie for other reasons, and it's really okay to like this one because it's really not that horrible, but if you only got interested in it from the mass destruction, then maybe you gotta stop watching WWE. It's hurting ye brain!

And finally the battle ends with Superman whipping Zod's neck around and killing him. I've made fun of this part enough in my own mind an in other discussions, so I really don't want to waste anymore time on it. But it's somehow more humorous than it is serious. Just like Gwen's death in ASM2 (*Thwack*). And the city is half battered up and half just completely fucking wrecked. What a satisfying ending... no wait there's a little more. It ends with Superman becoming Clark Kent... ("Wait isn't it the other way around?" "Nope that's how it went" ) and that's it for Man Of Steel.
Good Stuff:
Zod. Yup, Zod is the best part of this movie. His actor (Michael Shannon) seems to be the only one embracing his role and delivers an outstanding performance here. Sure it's cringey and over-the-top at times, and yes it may have been terrible in a better movie, say, Infinity War, but since it's so relieving and fresh in comparison to the rest of the blandness in acting the movie offers, it's a somehow great performance.

Effects. It goes without saying that the fight choreography in the DC Movies is far superior to that of the Marvel Movies. Every blow just seems to land and rattle the victim more than the marshmallow hand punches the MCU's Action Karate Scenes have. And even though the destruction is excessive, it looks good, at least.

Russel Crowe. He was so good in Gladiator. He was meh here but the fact the film had the balls to cast Russel Crowe just makes me laugh. Satirical Success Point!

Soundtrack. Hans Zimmer? Awesome. Perfect choice for any DC Movie and he does stellar here.
Flaws:
Acting other than Michael Shannon. Everyone is so fucking boring. And bland. And lifeless. The worst performance was Henry Cavill, Superman himself. He brings little to no emotion, flavour, or uniqueness to the role he was assigned, and literally could've been replaced by some random street hobo who would have delivered either the relatively same or better effect on Superman's role that Cavill did. SUPERMAN IS NOT BORING, HENRY. Other terrible performances include Amy Adams.

Zack Snyder. No he's not a direct flaw on the film but let's talk about him for a brief minute since this review has to end soon. ZACK CLEARLY DOESN'T KNOW ENOUGH ABOUT SUPERMAN TO MAKE A MOVIE ABOUT HIM. The exact same goes for Batman, who will be talked about entirely on its own in the BvS Review. The trailers for this movie built it up to be something special, something cool, something that Superman Fans expect to be done to perfection. Well that can't happen when Zack doesn't know enough about the man of steel to make Man Of Steel (See what I did there? Cleverrrrrrrrr). He portrayed Superman as a lifeless demigod who really didn't care for human life that much in this movie. Don't argue that he did, because if that were truly the case, I doubt he'd be that reckless in the final battle. All the elements that made Superman Superman were completely lacking in this movie or just not even there at all. It got worse in BvS, just like most things did, but still, Superman's Terrible Writing in these films really originated and was present here too.

Boring. This movie's boring. The entire first half is so boring and isn't done well (Like I mentioned for Act 2 and 3) and it takes the longest time for things to wake you up, and even then, the final battle lacks so much flavour and power. It's literally just two super-strong men flying around and crashing into each other for a full hour.
Overall:
This movie's like a 4.5/10. It's not that bad but it's far from good. This is really all I have to say for now, I'm tired.
Final Score: 4.5 / 10 (D+)
Conclusion:
Thanks for reading this review, if you did read all of it, and of course let me know your review for this movie in the replies and try to avoid toxicity as always, it's what will keep this series running, hopefully. If people get too out of hand over opinions then I'll have to shut the shit down. And considering this is only the first instalment, it'd be pathetic if I had to do that.
A reminder that you might not disagree with my points and statements made in this review, and that's acceptable, but if you disagree, don't be an ass about it. Calmly let me know if I missed anything or possibly misunderstood anything, and remember I have the right to say I disagree with your disagreeing. This stuff happens all the time, and it's really up to you to decide how you want to go about discussing yours and everyone else's opinions.
Of course, here is the source where some users decided on what movies would be discussed in this series, and where I said I'll start with Man Of Steel. After almost falling asleep during this review (Seriously, the majority of this film is that boring) I'm going to need something to really laugh my ass off at so the next one will either be Catwoman (2003) or Batman And Robin (1998). You can also comment your opinion on which of these two should be reviewed next. I've never watched Catwoman, and only watched B&R once when I was like 6 or something, so both will be far more interesting experiences than this.
Alright, farewell for now. I'll probably create an archive for these posts soon, pending that they stay alive and well long enough to see the day.