Batman Character Guide [INTERACTIVE]
Play Sound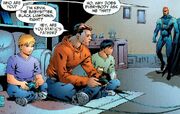 Conjectural Title
This subject has not been given a canonical in-universe name, and its title is based on educated speculation. Although a reliable source has not yet been provided, and may never be provided, the article will be named for the most likely guess until then. Thank you, Green Lantern.
Aaron Cash is a security guard at Arkham Asylum.

History
During the Joker's grand escape from the Phantom Zone, Cash was distracted by a video of a monkey and a dog being friends.

Powers and Abilities
Other Characteristics
Missing Limb: Cash is missing a hand, having had it replaced by a hook.
Notes
This version of the character is exclusive to the continuity of the film The Lego Batman Movie and is an adaptation of Aaron Cash. The original character was created by Dan Slott and Ryan Sook and first appeared in Arkham Asylum: Living Hell #1.
Though Aaron Cash was never referred to by name (not even being listed in the credits despite having a speaking role), he could be identified by his hook hand and security guard position at Arkham Asylum.
Related
Quotations by or about Aaron Cash (The Lego Movie)

Character Gallery: Aaron Cash (The Lego Movie)
Footnotes