Spider-Man: No Way Home Trailer Dropped - The Loop
Play Sound
"Superman: "Superman Versus Super Clark Kent!"": Baron X creates a thermonuclear explosion that releases Professor Vakox from the Phantom Zone. In a complicated plot, Vakox disguises himself as Clark Kent to make Superman think the explosion has
You can see and hear me, Superman! I, Vakox outwitted you! Now the belt will create a hyper-explosion that will blow the whole Phantom Zone into a remote universe, never to return!
Action Comics #341 is an issue of the series Action Comics (Volume 1) with a cover date of September, 1966. It was published on July 28, 1966.

Synopsis for Superman: "Superman Versus Super Clark Kent!"
Baron X creates a thermonuclear explosion that releases Professor Vakox from the Phantom Zone. In a complicated plot, Vakox disguises himself as Clark Kent to make Superman think the explosion has split him into two beings.
At the Fortress of Solitude, Vakox believes that has convinced Superman; and makes him a utility belt, which immediately proves useful. But Superman does not fall for the deadly trap it contains, and sends Vakox back into the Phantom Zone.

Appearing in Superman: "Superman Versus Super Clark Kent!"
Featured Characters:
Supporting Characters:
Antagonists:
Other Characters:
Unnamed American President
Locations:
Items:
Gold Alert Phone
Metal Eater
Nuclear Warheads
Phantom Zone Viewer
Superman's Utility Belt

Dazzler Pellets
Green Kryptonite Neutralizer
Magnetic Beam
Secret Surprise

Hyper-Explosion Bomb
Phantom Zone Projector

Super-Hypnotizer Disc
Vehicles:
B-52 Stratofortress
Telstar Satellite
Getaway Car

Synopsis for Supergirl: "The Four Helpless Heroes"
This story is reprinted from Action Comics #270.
One day at Midvale Orphanage, Linda Lee learns that her fellow orphan Frank Cullen may potentially be adopted by pro-golfer Vince Gordon. When luck seems to be working against him, Linda changes into Supergirl and secretly uses her powers to give Frank a helping hand which leads to Gordon adopting him. After watching a newsreel about Superman's latest adventures as Linda, Supergirl then learns that Krypto is in trouble. Traveling out into space, she finds the super-dog being captured by an alien ship that collects alien creatures. Supergirl then uses her powers to free the Dog of Steel.
Supergirl is then called to Atlantis where Lori Lemaris asks for her help in stopping the Atlantian criminal Malo who has stolen treasure from Atlantis. At first Supergirl is unable to match Malo's trident which can repel her body, however she uses the criminal's greed to get him to put the trident down. Further confusing him by quickly creating duplicates of the trident, Supergirl easily defeats him and turns him over to the Atlantean authorities.
Next, Linda hears a plea from Batman and Robin, who have been trapped in a cave-in in the Bat-cave. Linda removes the oxygen in the room using her super lungs causing the others in the room with her to pass out, so she can race to the Batcave, repair the cave walls, race back, and return air to the room, so the unconscious orphans and teacher awaken all in a matter of seconds. At the end of the day, Supergirl is summoned to the Fortress of Solitude, where Superman gifts her with a special make-up applicator that she can stash her costume in. Suddenly, her Atlantean Friends, Batman, Robin, Krypto and Superman surprise her with gifts and a giant birthday cake celebrating her 16th birthday. Superman explains that all the adventures she had that day were orchestrated by them as part of their birthday plans. After getting fanfare from the people of Kandor, Superman unveils one last present: A room dedicated to the exploits of Supergirl in the Fortress of Solitude.

Appearing in Supergirl: "The Four Helpless Heroes"
Featured Characters:
Supporting Characters:
Antagonists:
Other Characters:
Locations:
Items:
Earth Monitor
Electric-Spears
Space-Missile
Transparent Crystal Bubbles
Vehicles:
Battleships (On a TV or computer screen)
Space-Ship/Space Ship
Trivia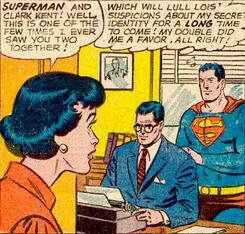 Lois Lane's curiosity is temporarily satisfied in "Superman Versus Super Clark Kent!" when she finds Superman speaking with "Clark" — who is actually Professor Vakox in disguise.
See Also
Links and References