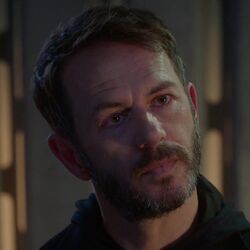 Greg Ellis
(
b.
March 21, 1968) is the stage name of British actor
Johnny Rees
. From 2016, he reverted to his birthname. Ellis has voiced a number of characters including:
(External Links: The actor's entries on IMDb and Wikipedia)


Selected Filmography
Batman: The Brave and the Bold
2008-2011
Various
     "Terror on Dinosaur Island!"
November 21, 2008
Gentleman Ghost
     "Dawn of the Dead Man!"
January 16, 2009
Gentleman Ghost
Doctor Canus
     "The Eyes of Despero!"
February 6, 2009
Doctor Fate
Cavalier
     "Trials of the Demon!"
March 20, 2009
Gentleman Ghost
     "The Last Bat On Earth!"
June 19, 2009
Doctor Canus
     "When OMAC Attacks!"
July 18, 2009
Hawk
Shrapnel
     "The Fate of Equinox!"
July 25, 2009
Doctor Fate
     "A Bat Divided!"
February 5, 2010
Cavalier
Computer Voice
Nuclear Engineer
     "The Malicious Mr. Mind!"
January 20, 2011
Doctor Canus
Mister Mind
     "Night of the Batmen!"
April 29, 2011
Cavalier
     "Bold Beginnings!"
August 2, 2011
Cavalier
Community content is available under
CC-BY-SA
unless otherwise noted.