Batman Character Guide [INTERACTIVE]
Play Sound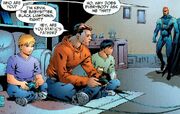 Conjectural Title
This subject has not been given a canonical in-universe name, and its title is based on educated speculation. Although a reliable source has not yet been provided, and may never be provided, the article will be named for the most likely guess until then. Thank you, Green Lantern.
Doctor Adam Strange was a scientist at S.T.A.R. Labs and a member of Emil Hamilton's team.

History
Part of his duties was to help with the construction of a moonbase. However, Dr. Strange had ambitions to do more. He wanted to construct a Zeta-Beam device, that could help people to traverse immense distances.[1]

Powers and Abilities
Abilities
Notes
Trivia
Related
Quotations by or about Adam Strange (Smallville)

Character Gallery: Adam Strange (Smallville)
Footnotes