Batman Character Guide [INTERACTIVE]
Play Sound
"Search": Superman is still missing after he fought the Thanagarians and took a dive. Guardian is out searching, and instead he finds Gangbuster, an unknown vigilante who employs somewhat more controversial tactics and is wanted b
Adventures of Superman #449 is an issue of the series Adventures of Superman (Volume 1) with a cover date of December, 1988.

Synopsis for "Search"
Superman is still missing after he fought the Thanagarians and took a dive. Guardian is out searching, and instead he finds Gangbuster, an unknown vigilante who employs somewhat more controversial tactics and is wanted by the police. The two of them get into an argument about idealism which quickly escalates into physical combat. A blunder by the Newsboy Legion trying to help out their pal sends a car careening towards the two grappling heroes. At the last second, Gangbuster pushes Guardian out of the way and absorbs the full brunt of the impact crashing into him and sending him diving straight into the river. He escapes, and Superman reappears just in time to rescue the boys from drowning.
Jimmy Olsen does some investigative journalism on Superman's whereabouts that leads him to to Bibbo Bibbowski, who apparently does not take kindly to reporters. Bibbo's thugs rough him up, and threaten to steal the Signal Watch. In the nick of time, he is also rescued by Superman.
Amanda McCoy, former employee of LexCorp, continues investigating the secret identity of Superman, who she believes to be Clark Kent. She is on stakeout with Matt Stockton at 344 Clinton Street, and also investigates the Daily Planet where she meets Lois Lane.
Back in commission officially, Superman receives word that he has a meeting scheduled with Captain Atom to discuss military action for the Invasion!. He is to be sent on a diplomatic mission to the Alien Alliance to negotiate a cease-fire, sending transmissions back to the Pentagon. Superman meets with the Dominators on their mother-ship, and talks to their highest caste. Claiming that the many sovereign nations of Earth need time to decide on the ultimatums issued demanding the surrender of all metahumans, they decide that there will be a one-day break in the fighting before the invasion is resumed. Even the Man of Steel is left somewhat stirred by the confidence of the invaders in their ability to completely annihilate the forces they're intent on conquering.
Later, at the Norad Defense Command Center, a superhero summit is held by the committee leading Earth's forces, including Captain Atom, Amanda Waller, Wade Eiling and Maxwell Lord. Superman details the events of his meeting with the aliens, and they prepare... for war.

Appearing in "Search"
Featured Characters:
Supporting Characters:
Antagonists:
Other Characters:
Locations:
Items:
Vehicles:
Notes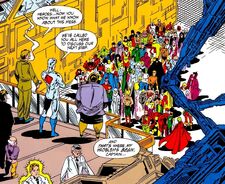 Trivia
In the shot at the end with the heroes gathering at NORAD, Marvel Comics' Spider Man makes a small cameo appearance.
See Also
Recommended Reading
Links and References