Wiki Targeted (Entertainment)
Play Sound
I wouldn't take such extreme measures [...] if this mission weren't more important than you could possibly imagine.

— Amanda Waller
Director Amanda Waller is the callous, manipulative, and patriotic director of A.R.G.U.S., and the founder and director of Task Force X. Always with the intent of benefiting the United States, Waller is willing to do terrible things to get her way, such as intimidation, blackmail, or even murder.

History
Amanda Waller rose to power as the director of A.R.G.U.S. sometime before 2016. After the death of Superman, she spoke with several other speaking her concern that the next Superman may not see his world views. To fill the gap of power, Waller wanted to assemble Task Force X, a team of villains who wouldn't have a choice but to obey her orders. One of Waller's greatest assets was June Moone, the host of the witch Enchantress, and was partially controlled by Moone's boyfriend/Waller's key ally Rick Flag.
One day, Enchantress got ahold of Waller's edge against her, her own heart and trapped Waller and several other of Waller's men inside Midway City. The squad was assembled, but given little details over the mission. Waller was rescued but her escort out was botched by the combined efforts of Enchantress and the Joker, resulting in her helicopter to crash.
After the squad destroyed Enchantress and freed Moone, Waller was revealed to be alive. She made good on her promise and reduced the remaining villain's sentences by 10 years and did each member a favor, except Captain Boomerang.[1]
Expand
This section of the article does not provide a complete profile of the subject. You can help out by providing additional information, expanding on the subject matter in order to bring this article to a higher standard of quality.

This template will categorize articles that include it into Category:Incomplete Articles.
Incomplete
There's something missing here. This section of the article is incomplete, and contains information, but requires more before it can be considered
complete
. You can help DC Database by editing this page, providing additional information to bring this article to a higher standard of quality.
Powers and Abilities
Abilities
Notes
Related
Footnotes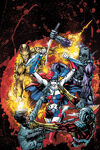 Suicide Squad member
This character is or was a member of the Suicide Squad, a team of imprisoned super-villains who perform high-risk missions for the U.S. Government in exchange for commuted sentences, in any of its various incarnations. This template will categorize articles that include it into the "Suicide Squad members" category.