"Snapshots": Courtney Mason continues her life as a runaway, now in Gotham City on Christmas Eve. While sleeping under newspapers in front of a church, she's kicked awake by a police officer and told to move. Her father [[Dwight Mason (Ne

I was feeling sorry for myself! But it's much more fun hating creeps like you! You think because you're a guy, you can take what you want! Because you're young and strong! But youth doesn't last forever, punk! Sometimes not long at all!

— Anima
Anima #1 is an issue of the series Anima (Volume 1) with a cover date of March, 1994.

Synopsis for "Snapshots"
Courtney Mason continues her life as a runaway, now in Gotham City on Christmas Eve. While sleeping under newspapers in front of a church, she's kicked awake by a police officer and told to move. Her father Dwight and brother Jeremy worry about her at home, and the investigator calls to say he has no leads on her disappearance.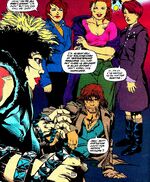 Her mother Willow is undergoing dream therapy at the Tellus Institute in California, unaware that her doctor Maxilla Yale is cruel and dangerous. Animus tries to cheer Courtney up by pretending to be Batman, but she ignores him.
Courtney goes to a rave hoping she can score some food, and punches a boy for trying to kiss her with mistletoe. This boy is Slam Shiner of the performing band Boojum, and his bandmates Alison, Judy, and Liv invite her to hang out with them. They offer her a place to stay when the rave is over, but she declines. When she leaves, she is assaulted by a member of the Scorpions street gang who intends to rape her as part of his initiation. Anima fights back and drains several years off his life with her powers. The rest of the gang attacks, but Boojum rescues her with tasers. This time Courtney accepts their offer to stay with them.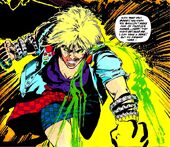 That night, Courtney sleeps in an abandoned tenement where they're squatting. It's revealed that Liv used to be a member of the Scorpions, and quit. Anima continues to brood about her murder of Joe Christmas, as she hates Animus and does not want her powers. Dwight Mason uses his connections with Steve Dayton to have special agent Kyle Woodleaf of the ODD track down his daughter.
The next day when Anima returns to their tenement, she finds that the Scorpions have taken her friends hostage. They underestimate her and she beats them with the help of Animus. The fight ends when she throws their last standing member out of a window, nearly killing him. Liv reveals to Anima that the Scorpions raped her, and she believes she deserved it for thinking they were cool. Anima tells her that nobody deserves that, and it wasn't her fault. The band asks Anima to come with them on tour, and she agrees. In a separate location, Kyle Woodleaf figures out that Anima and Courtney Mason are the same person.

Appearing in "Snapshots"
Featured Characters:
Supporting Characters:
Antagonists:
Maxilla Yale (First appearance)
Scorpions (street gang)

Number One (Single appearance)
Squarehead (First appearance)
Other Characters:
Locations:
Items:
Dream Machine (First appearance)
Vehicles:
Notes
Anima broods about having killed a man, and this is seen in flashback. This is a reference to her murder of Joe Christmas, the cultist who sacrificed her to death gods during Bloodlines.[2]
Trivia
See Also
Recommended Reading
Links and References
Community content is available under
CC-BY-SA
unless otherwise noted.