Aqualad was a young Atlantean superhero and a member of Titans East.

History
Powers and Abilities
Powers
Abilities
Notes
Related
Quotations by or about Aqualad (Teen Titans Go! TV Series)
Footnotes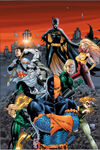 Titans East member

This character is or was a member of the Titans East in any of its various incarnations. This template will categorize articles that include it into the "Titans East members" category.