Batman Character Guide [INTERACTIVE]
Play Sound
Batman begins working with Joe Potato on a case involving the white slave trade. Sarah Essen goes after Catwoman while Jim Gordon is in the hospital. Catwoma
Sisters in Arms is a two-part Batman arc written by Alan Grant with illustrations by Norm Breyfogle. It was published in the Batman series between Grant's stories Saturday Night at the Movies and To Live and Die in California. The story focuses on women in Gotham City, with a spotlight on characters like Catwoman, Sarah Essen, and Vickie Vale.
Synopsis
Batman begins working with Joe Potato on a case involving the white slave trade. Sarah Essen goes after Catwoman while Jim Gordon is in the hospital. Catwoman has started living with a young artist named Arizona who reminds her of Holly Robinson. When a psychologist challenges Catwoman to steal a Karnak cat statue on live TV, Catwoman is determined to steal it.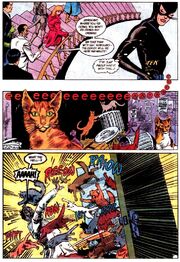 Vicki Vale becomes determined to get her picture. It's revealed that the Karnak statue owner's, Leo Londis is involved with the slave trade. It is a trap to capture Catwoman as a white slave.[1] Batman and Potato stop the slavers from kidnapping a slew of random women. Catwoman breaks in to the museum, and is caught by an ambush. It's explained that a high-paying customer wants her specifically as his wife. She escapes, but Essen tries to arrest her on the rooftop while Vale takes pictures. Londis and his men capture all three of the women. However, they work together, and take out the guards by fighting in unison. Londis tries to escape, but Catwoman uses an ultrasonic device to attract cats from miles around. The cats swarm Londis and subdue him. Essen makes a big arrest, Vale gets incredible pictures, and Catwoman leaves with the extremely valuable statue. Batman arrives to a room full of cats and unconscious men, then asks if he missed something.[2]

Issues
Notes
Recommended Reading
Links and References