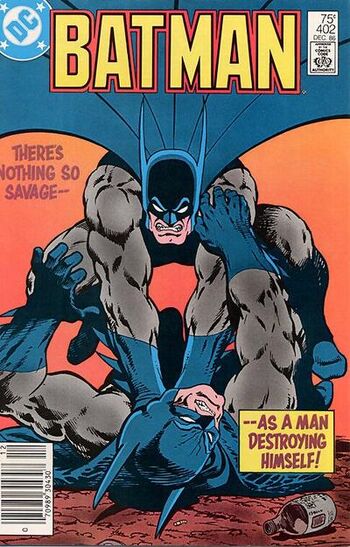 There's Nothing So Savage -- As a Man Destroying Himself!
Summary
Volume: 1
Issue: 402
Month: December
Year: 1986

Credits
Editor in Chief: Jenette Kahn
Head Writer: Max Allan Collins
Cover Artists: Jim Starlin
Pencilers: Jim Starlin
Inkers: Jim Starlin
Colourists: Daina Graziunas
Editors: Denny O'Neil

Synopsis
Cast of Characters:

Barnes
Davis
Dick
Howard Despond
Jane
Mrs. Carma
Tommy Carma
Locations:
Items:
First Appearances: Barnes (Deputy Commissioner of Gotham City); Davis (a reporter); Dick; Howard Despond; Jane; Mrs. Carma (Tommy Carma's mother); Tommy Carma (a former police officer masquerading as Batman)

Final Appearances: Davis; Dick; Howard Despond; Jane

Synopsis:



Summary Needed
This page is missing a well-written and detailed synopsis. If there is already a synopsis here, it might need to be modified or expanded. You can help the DC Database by adding a summary of the story.
Look at how sad this is making Batman. You did this.
Notes
Tommy Carma makes a chronologically earlier appearance in flashback in Batman #403.
Trivia
There is a young couple featured in this issue named Dick and Jane. Their names are a reference to the Dick and Jane series of children's books written by Zerna Sharp from the 1930s-1970s.
Recommended Readings
Related Articles
External Links
References
---
Template:Template Required
Community content is available under
CC-BY-SA
unless otherwise noted.