"You Shoulda Seen Him...": Three GCPD officers sit in a diner and share stories about encounters they had with Batman that night. The first GCPD officer was dealing with a suicidal heroin addict about to jump off a bridge. Batman jumped off the bridge to save the
I swear that if you harm that woman at all, I'll make you pay! I will break and twist things within you. You can't conceive of the pain I can cause. It's pain that will go on forever! You won't escape it... because I won't let you die!

— Batman
Batman #423 is an issue of the series Batman (Volume 1) with a cover date of September, 1988.


Appearing in "You Shoulda Seen Him..."
Featured Characters:
Supporting Characters:
Antagonists:
Other Characters:
Hank Watkins (homeless child)
Jenny Watkinsn (homeless child)
Kenny (heroin addict)
Susan Watkins (Mentioned only)
Locations:
Items:
Synopsis for "You Shoulda Seen Him..."
Three GCPD officers sit in a diner and share stories about encounters they had with Batman that night. The first GCPD officer was dealing with a suicidal heroin addict about to jump off a bridge. Batman jumped off the bridge to save the boy's life and swung him to safety, then gave him a lecture about the value of life. The second officer responded to a robbery. A gang of punks took several people hostage inside a deli, and were threatening to execute an old lady unless their demands were met. Batman arrived and savagely beat the punks, filling them with terror and throwing the last one through a window. The third GCPD officer has a different kind of story.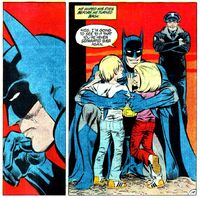 He ran into Batman while pursuing two homeless children. He had heard that Batman was scary and violent, and worried about how Batman would respond to the children. Batman and the officer sat together with the kids until the kids were comfortable enough to tell their story. They were homeless because they were orphans, and they refused to go into the foster system where they would be split up. The officer saw Batman hide a single tear from the children, then hug them and tell them everything was going to be okay. His friend Bruce Wayne would put them up until their other family could be located. The first two officers refuse to believe the third officer's story, insisting that Batman would never cry.
In the morning, Bruce Wayne watches over the sleeping kids in Wayne Manor. Alfred Pennyworth asks him if the Dark Knight is going soft, and Bruce replies "not enough for anyone but you to notice."
Notes
Trivia
See Also
Recommended Reading
Links and References
Community content is available under
CC-BY-SA
unless otherwise noted.