"Consequences": Batman receives a letter at police headquarters with a picture of Commissioner Gordon being held prisoner. The note says Gordon will die if Batman contacts the police, and tells him to bring Robin

For every action in this universe, there is an opposite and equal reaction. Consequences, Robin. There's no escaping them.

— Batman
Batman #425 is an issue of the series Batman (Volume 1) with a cover date of November, 1988.


Appearing in "Consequences"
Featured Characters:
Supporting Characters:
Antagonists:
Other Characters:
Felipe Garzonas (Flashback only)
Gloria Stanson (Flashback only)
Smitty (goon)
Locations:
Items:
Vehicles:
Synopsis for "Consequences"
Batman receives a letter at police headquarters with a picture of Commissioner Gordon being held prisoner. The note says Gordon will die if Batman contacts the police, and tells him to bring Robin.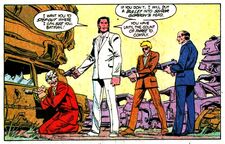 It is signed "a bereaved father." Batman assumes it must be Jose Garzonas, the drug-smuggling ambassador to Bogatago whose son Felipe died during their last case. Felipe had sexually assaulted a woman named Gloria Stanson, who later killed herself. Robin confronted Felipe, and Felipe fell twenty stories to his death. Robin claimed that Felipe slipped, and Batman decided not to press the matter. Felipe's death was reported as an accident but Jose clearly does not believe this. Batman decides to rescue Gordon alone while Robin goes to school.
Batman arrives at Wally's Junk Yard and slips over the fence. Robin climbs out of the Batmobile's trunk, having stowed away. Batman carefully moves through the junkyard taking down armed goons as silently as he can. There is gunfire when two men on opposite sides of Batman shoot at him, but he leaps out of the way and they kill each other. The final goon gives away Batman's position before he's knocked out.
Jose Garzonas is standing in the center of the junkyard with a gun to Gordon's head and two more goons. He tells Batman to show himself or Gordon will be killed. Garzonas prepares to execute Batman, but Robin appears and hits Garzonas with a batarang. Batman and Robin take down the goons while Gordon escapes. Gordon is grazed in the arm with a bullet while he runs to safety. Garzonas chases Batman onto a stack of cars, but the stack collapses and Garzonas is crushed underneath it. He dies. Robin asks Batman what happened and who these men were. Batman explains that it was Felipe's father, and that every action has a consequence. They look over the dead bodies. Batman angrily stares at Robin, and Robin walks away.
Notes
Trivia
This issue demonstrates that Batman can vertically leap higher than the height of an adult male. He leaps vertically when two men are about to shoot at him, causing them to shoot each other instead.
See Also
Recommended Reading
Links and References
Community content is available under
CC-BY-SA
unless otherwise noted.