Wiki Targeted (Entertainment)
Play Sound
"Franchise, Part 2: The Away Team": Alfred finds Batman standing right beside the Batmobile, immobile for a long time, like if he is not able to decide what to do. Alfred is sure that the decision is related to [[Jason Todd (New E

Batman #647 is an issue of the series Batman (Volume 1) with a cover date of January, 2006. It was published on November 30, 2005.

Synopsis for "Franchise, Part 2: The Away Team"
Alfred finds Batman standing right beside the Batmobile, immobile for a long time, like if he is not able to decide what to do. Alfred is sure that the decision is related to Jason Todd and whether to save him or not.
Black Mask is utterly frustrated when Deathstroke takes Captain Nazi and Hyena as the members of The Society to help Black Mask to eliminate Red Hood. However, Deathstroke assures Black Mask that with help from a third member, they will take down Red Hood in no time.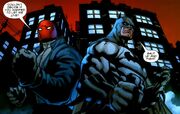 Red Hood is lured to a trap when a couple of Black Mask thugs attack one of Red Hood's drug dealers. Red Hood arrives and takes them out with ease. However, he is ambushed by Captain Nazi and Hyena. Shortly after, Batman arrives and together they stun Captain Nazi for a while and then they shoot some tranquilizer darts to Hyena. Soon, they are surprised by the appearance of the third rogue, Count Vertigo, who incapacitates them both by twisting and turning their reality. Batman suggests Red Hood to inject a dose of adrenaline to Hyena. As Red Hood does this, he is taken from behind by Captain Nazi, while the beastly Hyena wakes up, Batman uses ear and sight protection from Vertigo's attack and then he uses a sonar to fight Vertigo and take a piece of his clothing. Batman then starts punching Hyena with the piece of clothing he took from Vertigo. Hyena gets Vertigo's scent and soon he attacks his partner, releasing Vertigo's effects from Batman and Red Hood. Batman turns his attention to Captain Nazi and orders him to release Red Hood, but the criminal doesn't listen. Meanwhile, Red Hood arms himself with a taser and uses it on Captain Nazi's eyes, apparently killing him. Red Hood then leaves the place, trying to give Batman a morale lesson, but Batman decides that it is time to end it all.

Appearing in "Franchise, Part 2: The Away Team"
Featured Characters:
Supporting Characters:
Antagonists:
Other Characters:
Locations:
Items:
Vehicles:
Notes
This is the third part of the second half of the storyline Batman: Under the Hood, which takes place on the Batman title.
See Also
Links and References