"Dark Moon Rising, Part I of VI": Batman comes across Catwoman committing another burglary. He worries that he has accidentally given licence to every crook with a flair for the dramatic. Catwoman smells a girl's perfume on Batman, and runs

Tonight, the blood moon shall be filled.

— Dala
Batman and the Mad Monk #1 is an issue of the series Batman and the Mad Monk (Volume 1) with a cover date of October, 2006. It was published on August 23, 2006.

Synopsis for "Dark Moon Rising, Part I of VI"
Batman comes across Catwoman committing another burglary. He worries that he has accidentally given licence to every crook with a flair for the dramatic. Catwoman smells a girl's perfume on Batman, and runs off after scratching him. Batman tries to follow, but can't as he's been drugged, and he hears his pager go off.
Julie Madison is waiting outside a clothes store for Bruce. Alfred Pennyworth arrives, and tells her that Bruce cannot make it. Upset, Julie goes home.
James Gordon is waiting atop Police Headquarters for Batman. While waiting, three of Commissioner Grogan's thugs arrive, and ask what he's doing. Despite saying that's he's smoking in private, the thugs attack him. Gordon holds his own, until a coughing fit gives the thugs an advantage. Batman arrives in time to down the police thugs and warn them off Gordon. Gordon muses that it's the first time he's seen Batman in actin, and he's fighting cops again. he tells Batman that Hugo Strange appears to be legal, and that something new has arrived. He takes him down to the morgue.
Julie arrives home. Her father, Norman Madison, tells her that they need to lie low, especially at night. She wonders what's gotten him so shaken, then finds his note pad covered in drawings of bats.
In the morgue, Gordon shows Batman the body of a young woman pulled out of the river. A ragged wound on her neck shows where her throat's been ripped out. Her blood has been completely drained out- more than the river would do. Batman is still inclined to think the river is responsible, as was Gordon, until he's shown another body, a young man, with exactly the same condition, who'd been found in the basement of a warehouse.
In a nightclub, an young woman from out of town gets chatting with another, Dala. Dala gives her a smell of her perfume. The girl half-faints. Dala takes her out, for some "fresh air". She passes out, and Dala has her loaded into a hearse. "Tonight", she says, "the blood moon shall be filled."

Appearing in "Dark Moon Rising, Part I of VI"
Featured Characters:
Supporting Characters:
Antagonists:
Other Characters:
Gotham City Police Department

Jensen (Single appearance)
Pulver (Single appearance)
Briggs (Single appearance)

Murray Friedman (Single appearance)
Locations:
Items:
Vehicles:
Notes
Trivia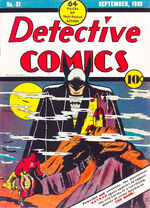 See Also
Recommended Reading
Links and References
Community content is available under
CC-BY-SA
unless otherwise noted.