Batman Character Guide [INTERACTIVE]
Play Sound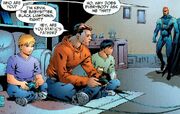 Conjectural Title
This subject has not been given a canonical in-universe name, and its title is based on educated speculation. Although a reliable source has not yet been provided, and may never be provided, the article will be named for the most likely guess until then. Thank you, Green Lantern.
The Batman of Moscow was a member of Batman Incorporated

History
Ravil operated out of Russia, and was brutally murdered by Nobody using a vat of acid.[1]

Notes
Recommended Reading
Related
Character Gallery: Batman of Moscow (Prime Earth)
Footnotes

Batman Family member

This character is or was an incarnation of or an ally of Batman, and a member of the Batman Family. This template will automatically categorize articles that include it into the "Batman Family members" category.