Barney Venton, alias Headcase, is a powerful telekinetic villain of the Teen Titans.

History
Barney was an orphan with poor social skills, thus making him the perfect test subject for the villain Dr. Caligan. Caligan is a devious geneticist that manipulates teenagers into becoming his experiments. Barney is a student at the high school that Dr. Caligan teaches at and was easily persuaded to sign up for the experimental procedures.
After enduring grueling tests and experiments, Barney emerges with Dr. Caligan with a heightened mental capability. He is seen to have the ability to absorb knowledge and manipulate things around him in a gravitational way. Barney is taken to a tech expo to begin his knowledge consumption and comes into conflict with the Teen Titans. During the battle, Raven convinces Barney to give up but Barney, now branded Headcase by Robin, is attacked further by Robin. Barney responds with force and flees the expo.

Powers and Abilities
Powers
Related
Footnotes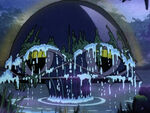 Legion of Doom member
This character is or was a member of the Legion of Doom, a team of supervillains culled together for the purpose of conquering the world and defeating the Super Friends, in any of its various incarnations. This template will categorize articles that include it into the "Legion of Doom members" category.
Community content is available under
CC-BY-SA
unless otherwise noted.