Batman Character Guide [INTERACTIVE]
Play Sound
Looking for a different version of this character?
As a result of the New 52 in 2011, the entire line of DC characters was relaunched, incorporating properties belonging to the company's imprints: Wildstorm, Milestone, and Vertigo. As such, elements of this character's history have been altered in some way from the previous incarnation. For a complete list of all versions of this character, see our disambiguation page.
Bette San Souci was a terrorist armorer, master of making explosive ordnance for others. Eventually, she went by the name Plastique in public, and became a walking bomb with a costume that had different incendiary charges on it. She later gained the power to project concussive blasts and turn objects into bombs.

History
As her abilities developed, her world view weakened. After serving the Suicide Squad, she became a thief and metahuman mercenary. She was part of a coalition that targeted Firestorm before joining the Secret Society of Super-Villains.
Before the Crime Syndicate's invasion of Earth, she attempted to murder Madame Xanadu.

Powers and Abilities
Powers
Notes
Related
Quotations by or about Bette Sans Souci (Prime Earth)

Character Gallery: Bette Sans Souci (Prime Earth)
Footnotes
Firestorm Villain(s)

This character, team or organization, is or was primarily an enemy of Firestorm and any of his supporting cast or members of the Firestorm Matrix. This template will categorize articles that include it into the "Firestorm Villains category."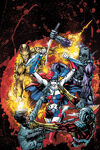 Suicide Squad member
This character is or was a member of the Suicide Squad, a team of imprisoned super-villains who perform high-risk missions for the U.S. Government in exchange for commuted sentences, in any of its various incarnations. This template will categorize articles that include it into the "Suicide Squad members" category.