Batman Character Guide [INTERACTIVE]
Play Sound
Bette Sans Souci was Plastique, a young villain eventually pressed into serving the Suicide Squad/

History
Bette Sans Souci was a young metahuman, who was captured and locked up in LuthorCorp's Black Creek facility, when she was only 12 years old.[1]
Three years later, Bette was released, when Tess Mercer shut down the facility. However, her experiences at Black Creek and having been imprisoned at such an early age, had caused severe trauma for the young girl.[1]
Making it to Metropolis, she befriended a boy named Tommy. However, when she told him about her past, he led Tess Mercer to Bette, who confronted her on a bus. Bette panicked and used the powers to blow up the bus.[1]
However, Bette was herself injured in the explosion and taken in by Chloe Sullivan. She was later interviewed by Chloe's friend, Clark. During their talk, Bette claimed that Tommy was the one, who caused the explosion. Afterwards, she accompanied Clark to look for Tommy. However, before Clark got a chance to talk to him (which would lead to Bette being exposed), Bette used her powers to kill Tommy.[1]
When Chloe discovered Bette's powers, she tried to kill Chloe, to protect herself. However, she was stopped by Clark and handed over to the police, who sent her to Belle Reve.[1]
Bette would never make it to Belle Reve, as her transport was intercepted by Tess Mercer, who recruited Bette to a team that Tess was assembling.[1]
Months later, Bette and the rest of the team were sent to capture Doomsday. However, after some of them died and they learned that Tess had implanted chips in their heads, to kill them if necessary, Bette turned against her, together with Parasite.[2]
However, Bette and Parasite were foiled by Clark and the Green Arrow. Bette was incarcerated for her crimes.[2] Sometime after this, she was approached by Checkmate and recruited to the Suicide Squad.[3]

Powers and Abilities
Powers
Notes
Related
Quotations by or about Bette Sans Souci (Smallville)
Footnotes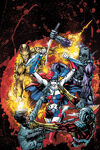 Suicide Squad member
This character is or was a member of the Suicide Squad, a team of imprisoned super-villains who perform high-risk missions for the U.S. Government in exchange for commuted sentences, in any of its various incarnations. This template will categorize articles that include it into the "Suicide Squad members" category.