Boba Fett Returns - The Loop
Play Sound
Bizarro is a malformed shadow of everything that is Superman.

History
Origin
Bizarro was created by Lex Luthor, in an attempt to use early cloning technology to find a means to kill Superman. The results were less than perfect. Once fashioned, even Luthor was incapable of controlling Superman's would-be duplicate.
Bizarro can fly like Superman, but he lacks the compassion that seems to mark the Man of Steel. Instead of heat vision, Bizarro's glare freezes, killing everything in sight. Instead of living like a man, this creature seems to relish its monstrousness.
The creature is not as intelligent as Superman, which only makes him more dangerous. Luthor may have built the engine of destruction he always thought Superman was.[1]
Role in the Legion of Doom
Bizarro is recruited into Luthor and Brainic's Legion of Doom through Doctor Sivana's stolen microscopic worm technology. The creature remains on the sidelines until Luthor's, Black Manta (Justice), Edward Nygma (Justice), and Pamela Isley (Justice)'s worldwide broadcast, at which point, Bizarro attacks Clark Kent in his apartment, flying the surprised Man of Steel into a construction site where Superman is ambushed and quickly overpowered by Solomon Grundy, Parasite, and Metallo. Bizarro and Grundy hold Superman in place and beat him mercilessly as Parasite drains him of his powers, letting Metallo expose Superman to his deadly Kryptonite heart.
When this draws the attentions of several onlookers, Bizarro uses his cryokinetic vision to bombard them with ice and snow. Just as it seems like Superman will meet his end, the timely arrival of Captain Marvel saves the Man of Steel's life, with the World's Mightiest Mortal uppercutting Bizarro high into the atmosphere. Enraged, the creature flies back down, but by the time it returns, Marvel has saved Superman and escaped, leaving Bizarro to be reprimanded by Luthor along with his other compatriots.
Bizarro later participates in the Legion of Doom's coordinated kidnapping of the Justice League's various loved ones and companions, with Bizarro personally kidnapping photographer Jimmy Olsen and reporter Lois Lane directly from the Daily Planet.
The monstrous clone is part of the Legion of Doom's party celebration over their triumphs over the League when the heroes spring their attack. Bizarro battles a disguised Superman until Green Lantern subdues the creature with Blue Kryptonite, and John Stewart uses Jordan's Green Lantern Ring to remove the monster's knowledge of the various heroes identities. When the Legion of Doom is ultimately defeated and Brainiac's plans for global annihilation thwarted, Bizarro is presumably incarcerated alongside the other members.

Powers and Abilities
Powers
Weaknesses
Related
Quotations by or about Bizarro (Justice)
Footnotes
Justice League Villain

This character is or was primarily an enemy of the Justice League, in any of its various incarnations. This template will categorize articles that include it into the category "Justice League Villains."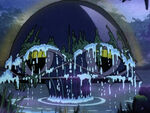 Legion of Doom member
This character is or was a member of the Legion of Doom, a team of supervillains culled together for the purpose of conquering the world and defeating the Super Friends, in any of its various incarnations. This template will categorize articles that include it into the "Legion of Doom members" category.