History
The Blue Tracer was a specially designed multi-use conveyance. It could function at high speeds for long distances with great agility on land, under water, or in the air, while greatly out-performing conventional vehicles of all types.
The Blue Tracer was invented and assembled on a battlefield in Ethiopia, over the course of many months, and finished in 1941, by American engineer William "Wild Bill" Dunn and his Australian colleague "Boomerang" Jones. They cobbled it together out of captured and abandoned Axis military equipment.
For the duration of the Second World War, the Blue Tracer and its crew operated independently of the regular Allied military units, and achieved several notable victories against the Axis forces.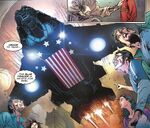 The
Blue Tracer
was reimagined to be the base and transport of
The Freedom Fighters
.
[1]
Capabilities
It rolls on traction plates and wheels, on land.
It has retractable wings, for high-speed flight.
It is fully submersible, and can either bottom-crawl or swim, under or on the surface.
It can bore thru solid volcanic rock.


Weapons
Machine guns and anti-aircraft cannons mounted in the nose.


Onboard Equipment
Radio controlled.
"million horse-power engine"


Notes
"Boomerang" Jones's unit was the 25th ANZACs. It was wiped out, so he was reported as dead.
See Also
Links and References
Community content is available under
CC-BY-SA
unless otherwise noted.