Spider-Man: No Way Home Trailer Dropped - The Loop
Play Sound
Brainiac's nanotechnology has taken control of the weapon systems of this world's governments. Every weapon of mass destruction in the world is under his control. According to Grodd, Brainiac has just initiated the countdown sequence.
Brainiac is an alien artificial intelligence who is a member of the Legion of Doom.

History
Origin
On the distant planet of Colu, artificial intelligence was created in the form of a computer mind more advanced than any on that planet. This artificial life replicated itself until it became that world's dominant life form, enslaving its very creators.
But expansion and domination of the planet was not enough. The A.I. created a humanoid machine more advanced than itself. This "Brainiac" was built to expand the artificial intelligence's empire beyond Colu. Brainiac traveled from one world to another, using Coluan technology to miniaturize whole cities and populations for further study.
In years to come, the super computer that ruled Colu was destroyed, but Brainiac continued in the purpose for which he had been built -- to conquer the universe. This brought the last surviving super computer of Colu to Earth where he was confronted with the last surviving member of the Kryptonian race.
Superman had since learned that the original Coluan scientists did more than create artificial intelligence. They created artificial envy, artificial greed and artificial hatred. That makes Brainiac more than an enemy of Superman. He is an enemy of every living thing.[1]

Powers and Abilities
Abilities
Enhanced Intellect: Brainiac may certainly be the most inventive, creative, demonic and twisted mind in this universe and otherwise. On Earth, although not outsmarted merely outplayed, Brainiac is constantly at the helm of planetary threats.[1]
Paraphernalia
Equipment
Related
Quotations by or about Brainiac (Justice)
Footnotes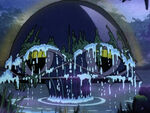 Legion of Doom member
This character is or was a member of the Legion of Doom, a team of supervillains culled together for the purpose of conquering the world and defeating the Super Friends, in any of its various incarnations. This template will categorize articles that include it into the "Legion of Doom members" category.