Wiki Targeted (Entertainment)
Play Sound
What do you get when you cross a Kryptonian with a mega-byte?

— Riddler
Brainiac is a rogue A.I. that became an enemy of Superman.

History
Krypton
Brainiac was an android created by Jor-El. He eventually turned on his creator and destroyed their home world of Krypton.[1]
Superman Family Adventures
Brainiac arrived on Earth with the intention of destroying it as he did Krypton. First, he confronted Lex Luthor, hoping to take possession of his collection of Kryptonite. After learning that Luthor was an enemy of the Superman Family, he kidnapped the mad scientist. He attacked Superman with a Periwinkle Kryptonite ray before racing off to the Fortress of Solitude. Luthor ended up betraying Brainiac, wanting the glory of defeating Superman to himself, and used his own technology to shrink him. Brainiac was then taken away by the Kryptonian Military Guild.[2]
Using the Kryptonite he obtained from Luthor, he enslaved Kandor. Not long afterwards, Brainiac and the entire city was enlarged by General Zod. A squad of Phantom Zoners and Superman Family members engaged him, but Brainiac was able to take them out. Superwoman was able to summon Jor-El, and while this stunned Bainiac, he still defeated him swiftly. Lara offered herself to save her family; Brainiac accepted until he learned she was pregnant. He decided to take his leave, turning Kandor into New Krypton in the process.[3]
Super Powers
Corrupted by Lex Luthor, Brainiac kidnapped Batman in order to trap Superman. Their plan worked and Brainiac kidnapped Ka-El, intending to turn him into a cyborg. Luckily for Superman, Wonder Woman came to his recuse. As the two battled Brainiac, Batman emailed him electronic Green Kryptonite, incapacitating the android.[4]
After, Lara gave birth to her second son, Prym-El, Brainiac paid the House of El a visit. He and General Zod confronted Jor-El, using crystals to send his spirit back to the Fortress of Solitude.[5] Learning what happened, Superman attacked Brainiac. Prym-El tried to intervene, but Brainiac manipulated his brother into joining him in the Legion of Doom. They returned to the Legion and revealed their plan to the release the Phantom Zoners. Lara came after her son and destroyed Brainiac's Skull Ship. As Prym-El emerged as full grown adult, with Brainiac sneaking up on her with the Phantom Zone Projector.[6] Prym-El freaked out and tried to take the projector, only to inadvertently send New Krypton into the zone instead. Enraged, he attacked Brainiac, prompting the Legion to escape aboard the Hall of Doom.[7]

Powers and Abilities
Powers
Abilities
Weaknesses
Paraphernalia
Transportation
Weapons
Related
Footnotes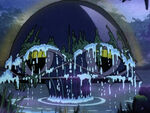 Legion of Doom member
This character is or was a member of the Legion of Doom, a team of supervillains culled together for the purpose of conquering the world and defeating the Super Friends, in any of its various incarnations. This template will categorize articles that include it into the "Legion of Doom members" category.
Justice League Villain

This character is or was primarily an enemy of the Justice League, in any of its various incarnations. This template will categorize articles that include it into the category "Justice League Villains."