Batman Character Guide [INTERACTIVE]
Play Sound
Looking for a different version of this character?
As a result of the New 52 in 2011, the entire line of DC characters was relaunched, incorporating properties belonging to the company's imprints: Wildstorm, Milestone, and Vertigo. As such, elements of this character's history have been altered in some way from the previous incarnation. For a complete list of all versions of this character, see our disambiguation page.
The Vampire Batman turned all his Earth's heroes into vampires and formed them into the Blood League.

History
To fight Dracula, Batman sought out demonic powers.[1][2] Dracula's defeat came at a price, as Batman eventually succumbed to the full vampire curse, despite attempting to control himself at first and trying to protect innocents like Barbara Gordon.[3] Soon after Batman embraced his bloodlust, other heroes were turned to vampires and they formed the Blood League.
Batman and the Blood League's bloodlust led them far beyond Earth as they wage an ongoing attack on the Planet Rann, defended by Adam Strange. Later on, Batman and the Blood League were manipulated by their world's vampiric Dr. Sivana into invading Earth 13, where they were stopped by the League of Shadows.[4]
Long after the Blood League is sent back to Earth 43, Batman witnessed the Ultima Thule traveling through his world[5] and joined other Batmen in fighting Barbatos.[6] Afterwards, Dark Matter entered Earth 43, and Batman discovered that it could sustain vampires to the point they would no longer feed on humans. Before going forward with this plan, however, Batman was confronted by his world's Arsenal, who was joined by a Wally West from another world. In the battle, Batman slew Arsenal, but was then locked down inside his Batcave's nuclear reactor by Wally. Wally knew this wouldn't kill the vampire, and hoped that someday someone would be able to cure Batman of his vampirism.[7]
For unknown reasons, Batman was freed and joined the side of Earth-0's John Stewart and other Multiverse refugees during the Dark Nights: Death Metal event[8] while his world and fellow Blood League teammates were under the control of Perpetua.[9]

Powers and Abilities
Powers
Vampirism: In addition to the various mental and physical benefits that vampires are heir to, they also possess the ability to turn others into vampires as well. Each new vampire is traditionally subservient to the one who "turned" them, but some strong-willed vampires have been known to rebel against their masters.
Notes
Batman's history may be loosely based on the Elseworlds Batman - Vampire trilogy, with the difference being that in the original story, he didn't deliberately seek out the powers to fight Dracula.
Related
Quotations by or about Bruce Wayne (Earth 43)
Footnotes

Batman Family member

This character is or was an incarnation of or an ally of Batman, and a member of the Batman Family. This template will automatically categorize articles that include it into the "Batman Family members" category.

Justice League member

This character is or was a member of the Justice League of America, or the Justice League in any of its various incarnations, sworn by a duty to act as guardians of America and the world by using their skills and/or superpowers to protect Earth from both interstellar and domestic threats.
This template will categorize articles that include it into the "Justice League of America members" category.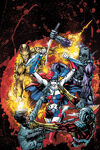 Suicide Squad member
This character is or was a member of the Suicide Squad, a team of imprisoned super-villains who perform high-risk missions for the U.S. Government in exchange for commuted sentences, in any of its various incarnations. This template will categorize articles that include it into the "Suicide Squad members" category.