Bumblebee is a member of the Titans East and a young hero with the ability to fly and shrink to the size of a bee.

History
Powers and Abilities
Abilities
Paraphernalia
Equipment
Weapons
Notes
Related
Quotations by or about Bumblebee (Teen Titans Go! TV Series)
Footnotes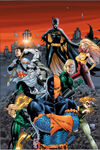 Titans East member

This character is or was a member of the Titans East in any of its various incarnations. This template will categorize articles that include it into the "Titans East members" category.