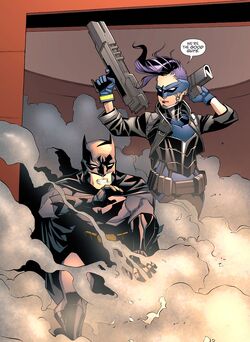 Harper Row
also known as Bluebird improved upon
Batman's
equipment with her own engineering knowledge.
Sometimes called "electronic science", Electrical Engineering is a term used to describe the ability of some characters to use techniques, theories and general knowledge of devices such as semiconductors, resistors, inductors, capacitors, nano-structures, and vacuum tubes. These characters can apply these electronics for power or information. The designs of electrical engineering usually are essential to computer engineering and many medical fields.
See also:
Trending pages
All items (89)
A
B
C
D
E
F
H
I
J
K
L
M
N
O
P
R
T
V
W
X
Community content is available under
CC-BY-SA
unless otherwise noted.