Citation Needed
"When? How? Where? What? Why? - Life's full of questions, isn't it?"
This article contains information that has not
been verified
. You can help the DC Database by adding reliable sources in order to bring this article to a higher standard of quality.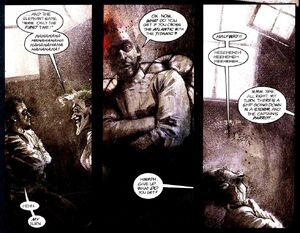 Mental Illness is a mental or behavioral pattern which causes strife or anguish to one's life. These include behavioral or chemical dysfunction, abnormal disorders, intense fears, chemical dependency and, natural to comics, exposure to substances which affect a person's thought process and actions. It is a common weakness to characters in comic books and a somewhat poorly used trope. Used properly, Mental Illness can be a crutch a character must lean on in a story to either overcome or be taken by it. Used improperly, Mental Illness can be a constant background of ill appropriated stigma. Identifying mental illness in comic books requires notice of a character's behavior as it is or becomes irrational to the social norms of the comic book. For instance, Hoppy the Marvel Bunny may act in strange ways to our eyes but within the context of his story he is perfectly normal.
Depression
Cyclone: Maxine developed atypical depression after her personality alienated her from her friends and peers.
Christine Trelane: Christine began to notice delusions coupled with postpartum depression.
Empathy: A young woman with "maniacal" depression.
Phobia
Doctor: The Doctor suffers from a powerful heroin addiction which is coupled by his transcendent powers.
Flashback: Flashback suffers from addiction to crack cocaine.
Hourman: Hourman suffers from addictions to the chemical his father invented called Miraclo. Hourman, like his father, uses this chemical to become the hero he is.
Johnny Quick: Johnny Quick suffers from addiction to

Speed-Juice

.
Mirror Master: Mirror Master suffers from a deep cocaine addiction.
Allan Quatermain: Allan Quatermain suffered from an addiction to opiates but seemingly kicked the substance after his adventures with the League of Extraordinary Gentlemen.
Signalman: Signalman went dark for many years before being found in the Suicide Slum addicted to unknown drugs.
Thumbelina: Thumbelina is addicted to the shrinking serum which gives her her powers along with a degree of paranoia.
Lady Flash: Lady Flash was manipulated by Vandal Savage due to her addiction to Velocity 9.
Speed Demon: Speed Demon gets his speed from

Steroid B-19

which quickly drove him mad and made him increasingly violent.
Marionette: Marionette suffers from the addiction to Kanium which is coupled with her multiple personalities.
Thomas Wayne (Earth 2): Thomas Wayne suffers from addiction to Miraclo.
Abnormal Disorders
Two-Face: Two-Face suffers from bipolar disorder and posttraumatic stress disorder. He heavily relies on his scarred coin to make decisions and without it becomes incapacitated.[2]
Marionette: Marionette suffers from dissociate identity disorder in which her alters each learn a different ability.
Riddler: Riddler suffers from a form of Obsessive-Compulsive Disorder (OCD), the inability to complete even basic actions without involving a riddle. He is often caught when he leaves clear riddles for his adversary Batman. He is his own worst enemy and he cannot stop, including when the Joker taunted Edward by forcing him into a joke contest.
Heatwave: Heatwave suffers from an obsession with fire often called pyromania.
Cluemaster: Cluemaster, like Riddler, suffers from the inability to conduct normal life without leaving clues.
Mad Hatter: Mad Hatter is strongly obsessed with hats. Early in her career he could satisfy his need for hats by simply stealing them but later in his life he only gained this satisfaction from relationships with his hats. He also suffers from schizophrenia with an obsession with the novel Alice in Wonderland and tries to find the fictional character Alice in the real world.
Firefly: Firefly is addicted to fire, an obsession often called pyromania.
Harley Quinn: Harley Quinn's obsession with the Joker caused her to go from a functional doctor to a dysfunctional, abused criminal.
Trickster (Flash TV Series): Trickster is a naturally insane criminal who's disconnection with reality involved him creating toys to cause destruction to just about anyone.
The Ventriloquist: Arnold Wesker suffers from multiple personality disorder, and is thus obsessed with his dummy/dissociated personality Scarface.
Killer Croc: Waylon Jones is afflicted with regressive atavism, meaning he has inherited some of the traits of ancestral species of the human race, over time the primal reptilian part of his brain gains more control of his psyche and has caused him to become a cannibalistic psychopath.
Jessica Cruz: Due to her PTSD, Jessica suffers from general and social anxiety. General anxiety causes persistent and excessive anxiety and worry about activities or events. Social anxiety involves high levels of fear and avoidance of social situations. Both types of anxiety involve worry that is out of proportion to the actual circumstance, and is difficult to control.
Pamela Isley (Prime Earth): Both Ivy and Batgirl have stated that she's affected by Seasonal Affective Disorder, a disorder characterized by one's state of mind being highly correlated with the seasons (spring = manic, summer = euphoric, autumn = apathetic, winter = depressed).[3]
Exposure-Generated Mental Illness
Possession-Related Mental Illness
Trending pages
All items (798)