Batman Character Guide [INTERACTIVE]
Play Sound
Originating from Barrio III, a world in which crystal life forms have attained dominance. Chaselon the Green Lantern of Sector 1416 is a being with 13 senses rather than the usual 6 of humans.[1]

History
Chaselon was one of the most veteran members of the Corps, being a Green Lantern since before Hal Jordan joined,[2] and Hal has praised Chaselon's experience, saying that he's "no better than" him.[3] Chaselon has a long history in the Corps, but the highlights of his career include the battle against a group of escaped cosmic criminals,[4] the battle against Krona and Nekron,[5] and defending Oa from an invasion of the Weaponers of Qward.[6]
After the first fall of the Green Lantern Corps,[7] Chaselon, like many others, remained inactive. He was one of the first Green Lanterns Hal Jordan selected to rebuild the Corps and recruit new members.[8] Chaselon was responsible for selecting the warrior Boodikka of Bellatrix as a candidate for the new Corps.[9]
Expand
This section of the article does not provide a complete profile of the subject. You can help out by providing additional information, expanding on the subject matter in order to bring this article to a higher standard of quality.

This template will categorize articles that include it into Category:Incomplete Articles.
Chaselon was one of the Green Lanterns used as a power source by the Cyborg Superman for his new model of Manhunters, the Highmasters. He was rescued after Hal Jordan and Guy Gardner discovered the operation.
Chaselon's partner, Diamalon, was killed by the sniper Bedovian during the Sinestro Corps's attack on Oa which freed Hank Henshaw and Superboy-Prime.[10] Chaselon became a willing member of the Alpha Lantern Corps. As a member of the Alpha Lanterns, he was present during the trial of renegade Green Lantern Laira.[11]
Chaselon was killed by the Black Lantern Corps. Later Kyle Rayner used his Alpha Lantern Power Battery to overload the Central Power Battery of Oa and destroy as many Black Lanterns as possible.[12]

Powers and Abilities
Powers
Symbiotic Interface: With the enhancements that comes with being a member of the Alpha Lantern Corps, Chaselon's mind can automatically interface with the Book of Oa.
Abilities
Paraphernalia
Equipment
Weapons
Oath
"In brightest day, in blackest night,
No evil shall escape my sight.
Let those who worship evil's might,
Beware my power...Green Lantern's light!" (Formerly)

Notes
Although this character was originally introduced during DC's Earth-One era of publication, their existence following the events of the 1985–86 limited series Crisis on Infinite Earths remains intact. However, some elements of the character's Pre-Crisis history may have been altered or removed for Post-Crisis New Earth continuity, and should be considered apocryphal.
Related
Quotations by or about Chaselon (New Earth)

Character Gallery: Chaselon (New Earth)
Footnotes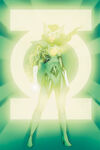 Alpha Lantern Corps member

This character is or was a member of the Alpha Lantern Corps in any of its various incarnations. This template will categorize articles that include it into the "Alpha Lantern Corps" category.


Darkstars member
This character is or was a member of the Darkstars, an intergalactic police force.
This template will categorize articles that include it into the "Darkstars category."