My name is Christopher Smith. I used to be a diplomat. I came to D.C. in pursuit of one thing, and one thing only. Peace. And when I couldn't find it... my new life began. Peacemaker isn't just a name. It's my mission. Whatever it takes. Whatever the cost. Peacemaker
The Peacemaker (real name Christopher Smith) is a hardened and driven vigilante who has dedicated his life to the elimination of war. He has been an operative of Task Force X II, the Suicide Squad, and L.A.W. as part of his pursuit for peace.

History
Origin
Christopher Smith used to be a career diplomat, he traveled to Washington, D.C. in pursuit of the elimination of war. When he realized that he couldn't achieve peace as a diplomat, he became the "Peacemaker", an extremist vigilante that was willing to kill anyone if it meant achieving peace.[1][2]
Smith's condition was made worse after an the Dominator Invasion, where he fought in the front lines along with the Justice League and many other heroes, but this left Smith on a erratic and almost suicidal state.[2]
===Suicide Squad===

Powers and Abilities
Abilities
Other Characteristics
Paraphernalia
Notes
Recommended Reading
Related
Footnotes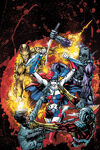 Suicide Squad member
This character is or was a member of the Suicide Squad, a team of imprisoned super-villains who perform high-risk missions for the U.S. Government in exchange for commuted sentences, in any of its various incarnations. This template will categorize articles that include it into the "Suicide Squad members" category.