Copy Edit Needed
This article suffers from a lack of quality writing. You can help the DC Database by improving this article's grammar and sentence structure to bring it up to a higher standard of quality. Poor Perry's gonna have a heart attack if you don't!
Clay Stoner fights evil as Odd Man, a two-fisted private detective with a clown-like costume.

History
He is the sole super hero protector of the crime-ridden River City. His bizarre clothing and high-tech weaponry serve to confuse and humiliate the hardened gangsters he fights against, literally turning the underworld upside-down. Odd Man uses gags and gimmicks to disorient and defeat his opponents.
His first recorded battle was against two super-villains Pharaoh and Queen of the Nile, who believed they were reincarnations of ancient royalty. Investigating robberies of Egyptian artifacts as private detective Clay Stoner, he suspected local museum curators. By night, he would stalk the criminals throughout his city protecting the collectors they preyed on. Pharaoh would mummify his victims in plastic before stealing their valuables, then present them to his Queen. He knew there was a link between the Pharaoh and the museum curator, so he broke into the curator's home, but she and the Pharaoh surprised Odd Man and sealed him in a sarcophagus. Odd Man had prepared for that special plastic that the Pharaoh had used and escaped from the tomb in time to defeat the jewel robbers.[1]
Odd Man was at one point shown to be affiliated with the Hero Hotline service, although his membership was not expanded upon.[2] Later on, he applied for a position as a field agent at Project Cadmus. Dabney Donovan posted the opportunity online and there were many heroes auditioning. It eventually went to reformed criminal Heat Wave. Clay shook hands with Superboy and told him he had had loads of fun, but he couldn't stay for unexplained reasons, and walked off leaving the boy with the impression that he had indeed met a very odd man.[3]
Stoner appeared again during Infinite Crisis, and was present at Stonehenge when all of the magic users gathered to summon the Spectre in conclusion to the Day of Vengeance.[4] He was also there for the Battle of Metropolis against the Secret Society of Super-Villains.[5] There, he fought against and apparently punched out the serial killer Onomatopoeia.[6] He was also present at Booster Gold's funeral during 52, where he was one of the pallbearers along with Beefeater, Blimp, Honest Abe, Mind Grabber Man and Yellow Peri. Clay admitted at the ceremony that he did not even know Booster, and had simply taken a job offer. Although he was disturbed by this, it was explained that Gold was a time traveler.[7]

Powers and Abilities
Powers
From all indications, The Odd Man is an intelligent, perceptive, and physically adept hero.
Abilities
Notes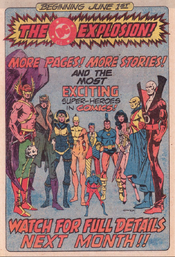 Related
Footnotes
Community content is available under
CC-BY-SA
unless otherwise noted.