Batman Character Guide [INTERACTIVE]
Play Sound
Looking for a different version of this character?
As a result of the New 52 in 2011, the entire line of DC characters was relaunched, incorporating properties belonging to the company's imprints: Wildstorm, Milestone, and Vertigo. As such, elements of this character's history have been altered in some way from the previous incarnation. For a complete list of all versions of this character, see our disambiguation page.
You called me "soldier;" General. Soldiers fight enemies on a battlefield. This is no battlefield.

— Major Force
Major Force was a military operative working under General Eiling.

History
Martin Stein hoped to continue his research on the Firestorm Matrix, but for that, he needed Firestorm (Jason Rusch/Ronnie Raymond) in a secure location. He turned to the government, and so the mission ended up with General Eiling. Eiling dispatched Major Force.
The hero was fighting several of his villains in Pittsburgh, and Major Force gained his trust by disposing of Hyena. Though Killer Frost briefly froze him, he broke free and punched out Black Bison. He then lured Firestorm to his vehicle and used a special camera to knock him out.
Major Force completed his mission, but Stein had seen how the government subverted his research and brought in Superman. Major Force confronted him about his lack of authority but was easily dispatched.[1]

Powers and Abilities
Powers
Abilities
Other Characteristics
Notes
Trivia
In his initial appearances in Fury of Firestorm: The Nuclear Men (Volume 1) and Legends of Tomorrow (Volume 1), Major Force's appearance was different from his previous, purple and yellow design. He resembled the character Black Jack (Major Bolton), introduced in Voodoo (Volume 2) #2. The DC Comics Encyclopedia: All-New Edition connects the two, using an image of Black Jack and positing that they may have been the same, or, as Black Jack was decapitated, Major Force is a successor to the role.[4] Major Force was never identified as either Major Bolton or his previous name, Clifford Zmeck, and holds the rank of colonel.[5] He reappeared in Suicide Squad (Volume 7) after Infinite Frontier, with older elements such as his color scheme and real name restored.
Related
Footnotes
Firestorm Villain(s)

This character, team or organization, is or was primarily an enemy of Firestorm and any of his supporting cast or members of the Firestorm Matrix. This template will categorize articles that include it into the "Firestorm Villains category."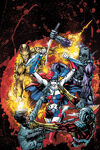 Suicide Squad member
This character is or was a member of the Suicide Squad, a team of imprisoned super-villains who perform high-risk missions for the U.S. Government in exchange for commuted sentences, in any of its various incarnations. This template will categorize articles that include it into the "Suicide Squad members" category.