Batman Character Guide [INTERACTIVE]
Play Sound
Looking for a different version of this character?
As a result of the New 52 in 2011, the entire line of DC characters was relaunched, incorporating properties belonging to the company's imprints: Wildstorm, Milestone, and Vertigo. As such, elements of this character's history have been altered in some way from the previous incarnation. For a complete list of all versions of this character, see our disambiguation page.
Copperhead is a criminal contortionist.

History
Copperhead battled Black Canary in Baltimore. He was initially able to overpower Black Canary, due to not having ears, which rendered her screams useless. He was later blinded by a flashing billboard caused by the Justice League and defeated.
Copperhead was later recruited by a mysterious person to join the Secret Society of Super Villains in order to take advantage of the growing superhero community. Little did they know that the Injustice League was being formed against them. When he saw that Catwoman had knocked out Professor Ivo, Copperhead sped toward her and constricted her until she was unconscious. Copperhead, along with Signalman, is ordered to clean up her corpse. However, it is then revealed that Catwoman is actually a disguised Martian Manhunter, who was infiltrating the Society. He quickly defeats the two villains. Copperhead is then apprehended along with several other members of the Secret Society.
During the villains' reign under the Crime Syndicate, in the Secret Society's battle with Lex Luthor's Injustice League, Copperhead was seemingly killed by Deathstroke as the latter's signal that he had defected from the Secret Society to the Injustice League for the sake of his continued livelihood.
An apparent successor to the Copperhead name has since emerged.[1]
However, the original Copperhead then appeared alive as one of the many villains Batman and Catwoman took down when he took her on a typical night of his job.[2] Copperhead was later seen as one of the many Batman villains to be beaten down by Bane in his attempt to reach Batman in Arkham.[3] Later, Copperhead was seen as a member of the Snake Gang.[4]

Powers and Abilities
Powers
Abilities
Notes
Related
Quotations by or about Copperhead (Prime Earth)
Footnotes
Justice League Villain

This character is or was primarily an enemy of the Justice League, in any of its various incarnations. This template will categorize articles that include it into the category "Justice League Villains."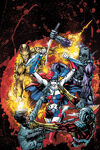 Suicide Squad member
This character is or was a member of the Suicide Squad, a team of imprisoned super-villains who perform high-risk missions for the U.S. Government in exchange for commuted sentences, in any of its various incarnations. This template will categorize articles that include it into the "Suicide Squad members" category.