Batman Character Guide [INTERACTIVE]
Play Sound
"Crisis on Infinite Earths, Part 2": Felicity Smoak states that she believes 76.6 universes have been destroyed by the Anti-Monitor till now and they must stop him. Meanwhile at the Monitor's Satellite, Crisis on Infinite Earths Giant #2 is an issue of the series Crisis on Infinite Earths Giant (Volume 1) with a cover date of March, 2020. It was published on January 19, 2020.

Synopsis for "Crisis on Infinite Earths, Part 2"
Felicity Smoak states that she believes 76.6 universes have been destroyed by the Anti-Monitor till now and they must stop him. Meanwhile at the Monitor's Satellite, Outkast states that he's an antimatter bomb that can destroy their whole universe and Felicity suggests they escape before he explodes. Harbinger teleports all the heroes back to the Waverider in time, leaving Felicity desperate for a way to find the Paragons. She storms off to find a way on her own and Flash tells White Canary to let her be. Later as she tries finding the Paragons through her computer, the Ray and Nyssa al Ghul arrive at her place and state they're all worried for her. Felicity states that she's searching for a way to find the heroes who can recreate the Multiverse, but this leaves Ray confused as she's merely using a human-invented computer.
Felicity states that she's hacking the Monitor's computer and has discovered the vibrational frequency of the universe that contain a Book of Oa, which has information about everything in the Multiverse, and opens a portal. Nyssa tells Ray that they need to accompany her, since she acts on her emotions without thinking and the two follow her into the portal. The group lands on Earth-85 and finds the Anti-Monitor battling the heroes from various realities instead. As the three are unable to figure out a way to beat him, the Phantom Stranger appears and informs there is no one who can. Stranger admits he can send them to Oa where they'll find the Book of Oa, but wars it will drive any human mad. As Felicity angrily yells it's her problem and she needs it to revive her husband.
Stranger agrees to transport Felicity's team to to Oa, stating that though it won't lead to Oliver Queen coming back to life, they need to find who the Paragons are. The three find themselves transported to Earth-12 and the Guardians of the Universe inform that they already know why she's here, but reject letting her read the Book of Oa. Felicity insists that they let her in order to save the multiverse, but they reject her again, stating it will drive her mad. Ganthet arrives while they are conversing and suggests letting her read it, but Ray soon alerts everyone about the Shadow Demons coming their way. Felicity guesses Anti-Monitor dispatched then and she is close to discovering a way to stop him as Ray flies away with her.
Nyssa is forced to fight the Shadow Demons herself and questions the Guardians for not assisting her, getting told in return that they have called in the Green Lantern Corps to fight them. Ray meanwhile gets hit by one of the demons, but Ganthet arrives in time to protect Felicity and takes her to the Book of Oa. The Lanterns, Nyssa and Ray meanwhile are forced to fight thousands of demons, but Kilowog remains determined to destroy them. Ganthet shows the book to Felicity and warns her to be on her guard against it. As she opens the book, she starts getting dragged in and sees her whole life as well as the future, including a grown up Mia. The only person she doesn't see is Oliver, but she soon starts getting visions of him too and tries to unsuccessfully reach out to him before he's gone.
As she starts seeing everything throughout time which wants to make her a part of it and offers her to be with Oliver again, Ganthet tells Felicity to not get fooled by its machinations. As she gets dragged further into the time stream, he tells her to resist its temptation and she is able to break out after heeding his words. Ganthet then informs her that all the Shadow Demons have been beaten and forces her to have a medical examination in the Waverider, which Ray and Nyssa insisted upon to ensure she hasn't been changed by the Book of Oa. She then meets up with Barry and tells him to revive Oliver with a Lazarus Pit, since he has a role to fulfil in the current crisis, but doesn't tell him how she knows it stating she fears it may never come to pass if she did.
Later while walking inside the Waverider, Felicity feels conflicted about hiding the truth from Barry and spots her grown-up daughter, forcing her to hide so the future is not altered. She then calls upon the Monitor and tells him she could only learn about some of of the Paragons from the Book of Oa, not all of them. Supergirl is the paragon of hope and White Canary the paragon of destiny, but she only has hints regarding two others. The Paragon of Courage is the so-called "bat of the future" and that of truth is a Kryptonian who's suffered a loss far more than any human can take. Sometime later at Hopeport, Felicity cradles her infant daughter and tells her that Oliver became the Spectre to save the Multiverse.

Appearing in "Crisis on Infinite Earths, Part 2"
Featured Characters:
Supporting Characters:
Antagonists:
Other Characters:
Black Lightning (In a vision)
Earth-85 characters

Alex Luthor

(Single appearance) (Cameo)

Firestorm

(Single appearance) (Cameo)

Captain Marvel

(Single appearance) (Cameo)

Harbinger

(Single appearance) (Cameo)

Martian Manhunter

(Single appearance) (Cameo)

Pariah

(Single appearance) (Cameo)

Power Girl

(Single appearance) (Cameo)

The Ray

(Single appearance) (Cameo)

Superboy-Prime

(Single appearance) (Cameo)

Superman (Kal-El)

(Single appearance) (Cameo)

Superman (Kal-L)

(Single appearance) (Cameo)

Wonder Woman

(Single appearance) (Cameo)

Elongated Man (In a vision)
Kid Flash (In a vision)

Manhunters

Pariah (Also in a vision)
Superman (Earth-38) (In a vision)
Superman (Earth-96) (Mentioned only)
Locations:
Items:
Vehicles:
Synopsis for "Infinite Luthor, Part 2"
The Council of Supermen tell the Superman of Earth-38 that a great crisis is happening, but he states he already knows and Luthors from various universes have formed a collective, something he been informed about by the Luthor of his universe The other Supermen don't trust what Luthor said, but Superman states that he could tell he wasn't lying from his heartbeat. Meanwhile on Earth-99, the Council of Luthors charges Lex with treason for informing his reality's Superman, which has led to other Supermen have collected against them. Lex however states that they've actually come together because of the Anti-Monitor destroying various universes, which is also the reason his reality's Superman was experiencing delusions of Earth-38.
Lex is imprisoned and left alone in a force field, but later pulls out his false tooth which would help him in getting out. Meanwhile, the Supermen inform the Superman of Earth-38 that he's not in his home reality, but on Earth-86, and they've discovered that a council of Luthors has indeed gathered on Earth-99. The Luthor of Earth-1938 praises another for his design on their warsuit and informs that it's currently in mass-production. They however soon find that the Supermen have arrived at their hideout in order to catch them by surprise. Superman of Earth-38 breaks out his reality's Luthor, though he states he could break out himself, and learns that the other Luthors are mass-producing warsuits in order to be able to kill all the Supermen.
The Luthors soon arrive wearing their warsuits and Lex of Earth-1938 tells the other to attack the Supermen with Kryptonite blasters. Superman of Earth-38 lands his reality's Lex on safe ground and tells him to find a way to disable the blasters. As he starts hacking into the facility's computer systems, Lex states that he could let his doppelgängers kill his enemy, but only he gets to kill him or any other Superman in existence. As he succeeds, he informs Superman and states he did it despite liking the idea of him being killed by them, but gets told in return the Supermen don't really need his help.
The other Luthors teleport away from Earth-99 after the tower enabling their Kryptonite blasters is destroyed and Lex tells Superman he can thank him by not imprisoning him on the Waverider again. He however soon finds himself back on the ship and gets the idea of killing the Supermen of all realities while playing chess with Harbinger.

Appearing in "Infinite Luthor, Part 2"
Featured Characters:
Supporting Characters:
Antagonists:
Council of Luthors

(Disbands)
Other Characters:
Locations:
Items:
Vehicles:
Synopsis for "A Flash of the Lightning!"
This story is reprinted from Crisis on Infinite Earths #8.
The Flash is captured, bound to a wall in a space capsule heading for the planet Qward in the Antimatter Universe. Psycho-Pirate is present, but fearful for his life. He wonders if the Anti-Monitor perished during his battle with Supergirl. Suddenly, the Anti-Monitor appears before them wearing new battle armor. He tells the Psycho-Pirate that he will spare him -- for now.
On Apokolips, DeSaad watches the space capsule and asks his master Darkseid what they're going to do. Darkseid answers that they're simply going to watch and see what happens. If the heroes prevail against the Anti-Monitor, Darkseid says, then the "status quo" will be maintained. If the Anti-Monitor prevails, then he will be weakened enough to the point where Apokolips' sole leader will destroy him.
In the 30th century, the Legion of Super-Heroes monitor the partially merged five Earths. Brainiac 5 throws himself into his research, refusing to come to terms with Supergirl's death. Saturn Girl observes that his mind is in turmoil.
In the 20th century, Firestorm communicates with Vixen who finds famed robotics expert Professor T.O. Morrow. They bring Morrow to the remains of the Justice League satellite where they hope he can effect repairs upon the robot that he invented - Red Tornado. Ray Palmer is also present, and is inspecting the Tornado's body from the inside. Suddenly, something deep within the Tornado's bio-system activates and a huge explosion tears through the satellite. Blue Devil, one of the heroes summoned to examine Red Tornado's inner workings, finds himself transported to the Vegan system to deal with the Omega Men.
Back on Qward, the Anti-Monitor supervises the construction of an Anti-Matter cannon. With this weapon, he intends on finishing off the remaining Earths. Dozens of Qward's Thunderers work as slaves to complete the weapon. The Flash, meanwhile, manages to break free. He grabs the Psycho-Pirate and races off with him across the barren landscape. Moving at super-speed, he exposes the Psycho-Pirate's face to many Thunderers. He forces the pirate to warp their emotions into feelings of hatred for the Anti-Monitor. One by one, the Thunderers turn against their master, but the Anti-Monitor easily defeats them. While the villain is distracted, the Flash finds the Anti-Matter energy core that powers the cannon. Running faster than he has ever run in his life, he circles around the energy core thousands of times, turning the unstable antimatter back upon itself, destroying the cannon. The influx of energy is too much for the Flash's mortal form, however. He begins phasing through different points in the time stream, and before long, he loses all physical cohesion and dies. All that is left of him is his empty costume and his ring. His noble sacrifice has saved billions of lives across the Multiverse.
From beyond the walls of time and space, one being screams out in unbridled anger. The Spectre has awakened.

Appearing in "A Flash of the Lightning!"
Featured Characters:
Supporting Characters:
Antagonists:
Other Characters:
Locations:
Items:
Synopsis for "Aftershock"
This story is reprinted from Crisis on Infinite Earths #11.
Creation occurs. One universe is born. In Metropolis, Kal-L, Superman of Earth-Two, wakes in an apartment at 344 Clinton Street. He has dreamed of the end of all Earths. Now he finds the decor of his apartment changed and Lois gone, and so he leaves for work. He enters the editor's office of the Daily Planet, where Perry White asks him to leave. Clark Kent enters, and rights the situation. Realizing that he must be on Earth-One, the Earth-Two Superman accompanies his counterpart to the "warp zone" between Earths in New York, so Kal-L can return home, but once there, they find the zone is gone. When they ask a cop what happened to it, he says that nothing was ever there.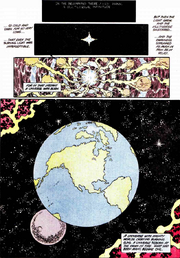 They decide to visit the home of Barry Allen in Central City, to use his Cosmic Treadmill. There, they find that Central City and Keystone City (formerly of Earth-Two) now exist side-by-side. When they reach the home of Jay and Joan Garrick, she recognizes the Superman of Earth-One, but not the Superman of Earth-Two, who had been a fellow Justice Society member of her husband. Jay Garrick recognizes both, and takes them into his lab, where Wally West waits. Jay tells them that the world still knows about the other Flash, Barry Allen, and remembers his trial, but that everyone also maintains that he, the original Flash, has lived on this Earth all his life, Wally changes to his Kid Flash costume, and Jay assumes his Flash identity.
Then, with the two Supermen, they board the Cosmic Treadmill, and reach the correct speed and vibration rate to enter Earth-Two's universe. However, they behold an endless sea of blackness where a cosmos had once existed. Feeling lost, without a past or a homeworld, Superman of Earth-Two tries to leap into the void, but his counterpart holds him back, as the Flash and Kid Flash bring them back to the lab.
In the timestream, Rip Hunter's time sphere, carrying Rip, Dolphin, Captain Comet, Animal Man, Atomic Knight, and Adam Strange, emerges in space near Brainiac's craft. They board it, and find the robotic villain slumped in his command chair. Of these heroes, only Rip remembers the multiple Earths.
At Titans Tower I in New York, the Teen Titans host an assembly of heroes who formerly occupied six different Earths. Captain Marvel and Uncle Sam report that they have tried to return to their home worlds, but found them nonexistent. Slowly, they come to grips with the fact that only one Earth now exists, not many.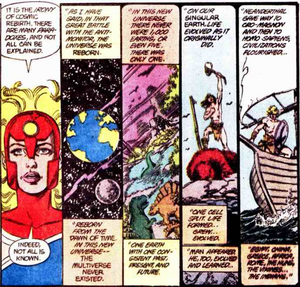 Suddenly, Harbinger appears. She has regained her powers with the rebirth of the universe, and states that many realities have been changed. When Kal-L asks why he still exists in the new universe, while his Krypton "never even existed," she tells him that he was spared because he "stood before the rebirth." The Huntress, shaken by her experience, tells of how she found herself without a law practice, an office, an apartment, or even a recorded identity on the new Earth. Robin of Earth-Two says that the only Dick Grayson of whom he could find records was 19 years old, and lived in Manhattan, not in Gotham City. Even the grave of the Earth-Two Batman was missing from the cemetery. Harbinger explains that a new universe, not a Multiverse, was born from the battle against the Anti-Monitor. There is, and was, only one Earth, one history, even only one World War II, in which Uncle Sam led the Freedom Fighters to victory over the Axis. Krypton exploded and Kal-El came to Earth. Only one Batman came to exist from the murder of his parents. All the heroes are stunned by this revelation, and none more so than the Earth-Two Superman. Not only did his Krypton never exist, but now his wife is also gone forever. He soars off in frustration and anguish, and Kal-El follows him.
Somewhere in a spirit dimension, Deadman and the Phantom Stranger watch over the Spectre, who was rendered immobile after the battle with the Anti-Monitor.
In Las Vegas, a detective convention is interrupted when Angle Man's body is found, along with his Angler weapon.
In Salem, Dr. Fate and the Demon magically observe Amethyst being attacked as a witch by a mob. Dr. Occult stops them, but then shadows appear and attack. Dr. Fate and the Demon join in the battle. However, Amethyst has been blinded, and when Fate looks into her eyes, he finds something incredible, and takes her back to Gemworld. Above New York City, Kal-El has succeeded in calming the older Superman, reminding him of his own loss with Kara's death. Kal-L weeps, not knowing where he belongs.
Back at Titans Tower, Wonder Girl tells of how Queen Hippolyta reacted when the Earth-Two Wonder Woman and her daughter Fury appeared on Paradise Island. None of the Amazons remembered the Multiverse, even though the "new" Paradise Island had elements from both Earths.
Power Girl questions why she is remembered, but her cousin forgotten. Harbinger replies that she does not know yet. Batman appears with the younger Robin and Alex, and tells the assembly of their recent interview with Lex Luthor in prison. Luthor had no knowledge of participating in the crisis, and angrily denied that he would ever help super-heroes. Therefore, says Alex, none of the villains remember fighting alongside them. However, danger still besets the Earth, as shadows continue their assault, and the uncanny weather persists.
Far below the surface of Peru, Cave Carson's crew reports an awesome flux of energy, and transmits the news to Titans Tower. There, the heroes observe the electrical storms becoming worse, and Pariah feels his pre-teleportation symptoms again — but, with no place to teleport to, he remains in painful stasis.
Alex glows with the anti-matter effect, and the Earth is drawn into a titanic space-warp. On a rooftop in New York, the Supermen realize that the Earth has been drawn into the anti-matter universe. Then, they are confronted by a huge image of the Anti-Monitor, welcoming them to his home, and to their deaths.

Appearing in "Aftershock"
Featured Characters:
Supporting Characters:
Antagonists:
Other Characters:
Locations:
Items:
Vehicles:
Synopsis for "Aftermath!"
This story is reprinted from DC Universe Legacies #6.
Paul is just awed by the number of heroes helping in the rescue during the Crisis, as well as the Flash's disturbing disappearance right in front of their eyes. Paul then goes to help a woman trapped under some debris and gets help from the Guardian, who for years he believed dead while in his identity (unaware that he was cloned by Project Cadmus). He tries to reintroduce himself, who he believes is Jim Harper, only for the Guardian to intend to him that Jim Harper is dead. He then reminds Paul that they still have lives to save, and go their separate ways. When Paul goes to help the casualty, the Guardian is secretly congratulating Paul for the man he has become. Meanwhile, in the Lincoln's basement, Jimmy decides to go check up, until the foundation caves in on him while he climbs the stairs.
Back in Metropolis, Paul and Nelson continue to aid in the rescue effort, and see the Anti-Monitor for the first time, watching as all the heroes fly in his direction for a final showdown. The skies turn back to normal as everyone breathes a sigh of relief, as the Crisis is finally over. Later, Paul reunites with the rest of the family at the hospital where Jimmy was taken to, and learns that due to his injuries that he will never walk again.
After a period of rebuilding, things return to normal, with Paul watching a news report on the formation of the Detroit-era Justice League an error, since they formed before the "Crisis on Infinite Earths", criticizing it for being a "third-string little league". For the first time in his life, he begins to question if the heroes know what they are doing, despite being reassured by Peggy. Paul and Nelson watch G. Gordon Godfrey, which Paul's dislike to Godfrey about the outlaw of any superheroes activity, citing that if it was not for the heroes, then the Crisis would have been the end of it all. Just as Nelson is about to make a point, the two get called to gear up, as the entire police force heads out to confront Brimstone just as he attacks Metropolis. Despite being nearly incinerated, Paul and Nelson are rescued in the nick of time by the JLA. The League makes a valiant effort against Brimstone; however, his power is too strong, and Paul and Nelson are awestruck when they witness it defeat the League with ease.
After Brimstone disappears, Jimmy and Paul witness a news report about an angry mob ganging up on Robin and nearly beating him to a pulp. Jimmy is touched by this, hoping that Robin does not end up like him, crippled and bitter. Paul convinces to reassure Jimmy that he will always be there for him, no matter what. Later, he learns of Brimstone's defeat by the Suicide Squad, now a team made up of both heroes and coerced villains. Around this time, the president outlaws superheroes appearing in public, and the JLA disbands. Subsequently, Paul hears Godfrey leading his followers at a rally in Washington, D.C. to overthrow the government, along with backup in the form of Apokoliptan Warhounds and Parademons; however, he is thwarted by a group of heroes made up of Doctor Fate's invitation. They then decide to reform the Justice League, at Doctor Fate's invitation, something Paul sees as "legends reborn". Weeks after the event, Paul and Nelson are promoted to detective, but things turn grim when they see a news report on the Joker being confirmed to have shot and crippled Barbara Gordon.

Appearing in "Aftermath!"
Featured Characters:
Supporting Characters:
Antagonists:
Other Characters:
Locations:
Items:
Vehicles:
Notes
See Also
Links and References