Wiki Targeted (Entertainment)
Play Sound
"Superman and Batman: "Joker-Luthor, Incorporated!"": This story is reprinted from World's Finest #129. DC Special #8 is an issue of the series DC Special (Volume 1) with a cover date of September, 1970. It was published on May 21, 1970.

Synopsis for Superman and Batman: "Joker-Luthor, Incorporated!"
This story is reprinted from World's Finest #129.
With reports that the Joker has been spotted in Metropolis, Batman and Robin race off to confront their old foe. There, in an outdoor exhibit of different clocks, the Joker manipulates a giant floating clock. When Superman arrives on the scene, he is shocked when the other half of the clock opens revealing his nemesis Lex Luthor. Luthor blasts Superman with a ray weapon that turns the Man of Steel into dispersed molecules for a brief time. When Batman and Robin arrive on the scene, they are easily defeated by the crooks, who escape, but not before the Joker tips them off to the fact that they intend to attack the flower show the next day.
While Clark Kent and Lois Lane are assigned to the fair to cover any potential strikes by Joker and Luthor, Batman and Robin stake out the flower show when, sure enough, Joker and Luthor arrive. When Clark slips away to change into Superman, he is once more blasted by Luthor's weapon dispersing him into atomic particles. After Batman and Robin fail to capture the two crooks, Batman ducks away to disguise himself as Clark Kent to preserve Superman's secret identity. Talking to the organizer of the fair, he is told that the two crooks are likely attempting to steal some rare gems that are going to be put on display. The organizer tells "Kent" not to worry, as he has enacted measures to prevent this from happening.
The next day the gems are displayed behind a shatter-proof glass dome, and when the Joker arrives in a helicopter with some thugs to steal the gems Batman and Robin easily capture them. Superman also uses his x-ray vision to see that Luthor has disguised himself as the event organizer and left the de-atomizer weapon with the Joker. While Batman and Robin capture the Joker, Superman apprehends Luthor and recovers the stolen gems.

Appearing in Superman and Batman: "Joker-Luthor, Incorporated!"
Featured Characters:
Supporting Characters:
Antagonists:
Other Characters:
Hilton Webb (Single appearance)
Locations:
Items:
Vehicles:
Synopsis for Flash: "Who Doomed the Flash?"
This story is reprinted from The Flash #130.
Barry Allen goes to the dentist, who gives him a temporary filling and warns that it may come out. After hearing on the radio that Mirror Master was sighted, he changes into the Flash and dashes away. When he visits the jail, however, he is told that the Rogue was in fact still behind bars. Over the next week, the same thing happens with the Trickster, Captain Cold, the Top, and Captain Boomerang.
Looking for clues, the speedster visits the public defender who had worked with all five Rogues at their respective trials, Paul Barrett. Claiming he can't divulge any knowledge of the situation, Barrett begins to smoke a pipe, and the resulting fumes knock the Flash unconscious. Barrett goes to his closet, which is filled with Rogue uniforms, one for each villain that had made appearance over the last several days, as well as a Flash outfit, which he dons.
Barrett heads to the prison and, as the Flash, asks to speak with the Mirror Master. Scudder, who had used mirrors to control Barrett's mind during his last trial, commands his old lawyer to change clothes with him. The Rogue walks out of the prison dressed as the Flash, while Barrett stays behind in jail.
Scudder arrives at Barrett's office, where he changes into his Mirror Master costume and confronts the Scarlet Speedster, who is trapped in a device that will explode if he moves. After taunting his foe, the Rogue leaves to commit a crime. The Flash is able to free himself by spitting his loose filling at a nearby light bulb, breaking it and interrupting the current powering the device holding him.
The Flash heads again to Barrett's office, where he finds the lawyer no longer under the control of Mirror Master. Barrett tips the speedster on where Scudder was likely to strike next, the Dagon Payroll Company. The Flash finds him there and easily apprehends him. After dropping the Rogue off at prison, the speedster heads to another appointment to get a new filling. When the dentist apologizes for the first filling coming out, Barry thinks to himself how the fact that it did fall out saved his life.

Appearing in Flash: "Who Doomed the Flash?"
Featured Characters:
Supporting Characters:
Antagonists:
Locations:
Items:
Synopsis for Green Lantern: "The Day 100,000 People Vanished!"
This story is reprinted from Green Lantern (Volume 2) #7.
When the entire population of Valdale suddenly vanishes, Green Lantern's astral form is summoned by the Guardians of the Universe. The Guardians tell him of Sinestro, an alien they chose to be the Green Lantern of Korugar. However, Sinestro abused his powers and used them to enslave his planet and install himself as dictator.
As punishment, the Guardians stripped Sinestro of his powers and banished him to Qward in the Antimatter Universe. They then warn that Sinestro has formed an alliance with the Weaponers of Qward to finally defeat the Green Lantern, by potentially exploiting his vulnerability when his power ring's 24 hour charge runs out. Part of the plan was to transport people from Valdale to Qward in a sweeping attempt to capture Green Lantern, who was scheduled to be in that town.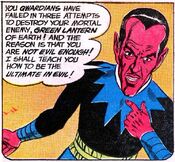 Having his mind returned to his body (this time, allowing Green Lantern to remember his encounter) Hal flies to the next city which is targeted by Sinestro. In order to prevent the people there from being transported to Qward, Green Lantern makes them all invisible, and only he is transported to Qward. There he battles the Qwardian Weaponers, however surrenders when Sinestro promises to return the people of Valedale to Earth. In doing so, Green Lantern is incased in a yellow bubble, and Sinestro and the Qwardians time the moments left in the power ring's charge. However, when they release Green Lantern they are shocked to find he still has power in his ring and is able to defeat them all.
He reveals to Sinestro that he had found a tiny hole in the yellow bubble he was trapped in and used his power ring to fire compressed air at the clock they were watching to make it reach the 24 hour mark faster so that they would think that his ring ran out of power when it still had some time left. He then imprisons Sinestro in a force bubble of his own before returning to Earth and appearing at an opening of a Boys Settlement House in Valedale.

Appearing in Green Lantern: "The Day 100,000 People Vanished!"
Featured Characters:
Supporting Characters:
Antagonists:
Sinestro (First appearance) (Flashback and main story)
Other Characters:
Korugarans (First appearance) (Flashback only)

Ki-Mon (Flashback only) (Single appearance)
Locations:
Items:
Vehicles:
Synopsis for Hawkman: "Shadow-Thief of Midway City!"
This story is reprinted from The Brave and the Bold #36.
Midway City is plagued by a series of robberies by a new super-powered criminal known as the Shadow Thief. The authorities have a hard time capturing him because it's almost as though the Thief is a real shadow. Even when Hawkman and Hawkgirl try to stop him from robbing, but they manage to take pictures for their future reference.
The Thief returns to his trailer outside of town where we learn that he's really a criminal named Carl Sands, who had become obsessed with shadows once after he was arrested for robbery. Once he was released from prison he turned his obsession into a quest to learn how to literally become a shadow to further his own criminal ends. As fate would have it, one of his experiments allowed him to contact with a creature from another dimension who was trapped. With Sand's help the alien was freed and as thanks, the alien gave Sands a device called a dimensionometer to allow him to exist in both dimensions simultaneously and become a shadow on Earth.
Sands used the device to commit fantastic crimes, ignoring the warnings from the alien that further use of the dimensiometer would cause Earth to undergo another Ice Age.
Meanwhile, Hawkman and Hawkgirl have used their photographs to successfully learn Sand's true identity and come up with a plan to capture him. Going to his trailer, they secretly lift it high into the air before alerting Sands that they intend to capture him. As expected, Sands turns on the dimensiometer and dives out the door, only to find that he's thousands of feet up in the air and is at risk of falling to his doom. Unable to be rescued unless he turns off his dimensionmeter, Sands turns it off and tosses the device to Hawkgirl so that he may be save. He is then turned over to the authorities and Hawkman and Hawkgirl decide to keep the device in their museum.

Appearing in Hawkman: "Shadow-Thief of Midway City!"
Featured Characters:
Supporting Characters:
Antagonists:
Other Characters:
Locations:
Xarapion (First appearance)
Items:
Dimensiometer (First appearance)
Vehicles:
See Also
Links and References