Black Manta is an arch-nemesis of Aquaman and a member of Legion of Doom.

History
Paraphernalia
Equipment
Notes
Related
Character Gallery: David Hyde (Harley Quinn TV Series)
Footnotes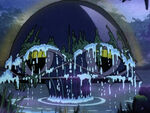 Legion of Doom member
This character is or was a member of the Legion of Doom, a team of supervillains culled together for the purpose of conquering the world and defeating the Super Friends, in any of its various incarnations. This template will categorize articles that include it into the "Legion of Doom members" category.