Batman Character Guide [INTERACTIVE]
Play Sound
"Table for Two": Alfred is delighted at making Bruce a proper meal and states it's been long since he had one. Coming upon the dining room, he notices that he's still in his batsuit and the latter decides to don ordinary clothing after realizing he forgot. As he changes, the Bat-Computer notifie
The finest meal turns bitter when there's only yourself to share it with.

— Two-Face
Detective Comics: Batman 80th Anniversary Giant #1 is a one-shot with a cover date of May, 2019. It was published on March 15, 2019.

Synopsis for "Table for Two"
Alfred is delighted at making Bruce a proper meal and states it's been long since he had one. Coming upon the dining room, he notices that he's still in his batsuit and the latter decides to don ordinary clothing after realizing he forgot. As he changes, the Bat-Computer notifies him about a police alert regarding an alliance between Two-Face, Mad Hatter, the Ventriloquist, the Penguin and Killer Croc. Harvey Dent has declared himself as the lord of Gotham's underworld and Gordon has been notified about Mad Hatters location by an anonymous source.
Arriving at Mad Hatter's hideout, Bruce asks him about the location of Two-face and subdues him along with his gang when he refuses to surrender. Hatter states that he's not working with Dent, but Batman discovers the latter's hair in his hat. The Batmobile determines that the origin of aerosol in his hair matches with that of Gotham's industrial district. Once there, he confronts the Ventriloquist and demands he tell him where Two-Face is, but his Batmobile gets attacked by armor-piecing bullets.
After taking out Ventriloquist and his cronies, Batman checks the wood of the crates the armor-piercing bullets were stored in and discovers they had been moved through Gotham's sewage system. There, he confronts Killer Croc and demands he spill what he knows about Dent. As his Batcycle gets punched, Batman gets injured but tells him that he's already been hit with a tranquilising dart. Examining the bag of meat he was carrying, Batman finds it is from Atlantic Bluefin tuna which can only be farmed at the Old Gotham Aquarium.
Confronting the Penguin at the aquarium in his Batboat, Bruce warns him to spill the beans against Dent, but gets attacked by his pet penguins armed with bombs. Bruce ejects in time but gets badly injured and knocks him out, before discovering a letter of invitation to Demarco's restaurant on his person by Dent. Arriving at the restaurant, he finds that the staff has been tied up in the kitchen while Dent is sitting outside.
Batman recognizes that Dent invited him in his normal state and all the criminals he stopped were never in league with him, but they were merely set-up so he could exact his revenge for them escaping justice during his days as district attorney. He also figures out that he invited him to a last meal for Two-Face and stops him before he can stab him. After handcuffing him, Batman asks if he wants to finish his meal since it's his favorite restaurant, but he rejects it stating that it's taste will be spoilt as he has no one to dine with.
After arriving back at the Wayne Manor, Bruce asks Alfred if he'll have dinner with him, but finds he is sleeping with his meal, as well a note addressed to him placed near him. Bruce hopes they'll be able to have dinner together the day after.

Appearing in "Table for Two"
Featured Characters:
Supporting Characters:
Antagonists:
Other Characters:
Locations:
Items:
Vehicles:
Synopsis for "The Case of the Chemical Syndicate"
This story is reprinted from Detective Comics #27.
Commissioner Gordon relaxes at home entertaining his young socialite friend Bruce Wayne. Wayne asks if anything exciting has happened lately, and Gordon explains that a fellow called the "Bat-Man" is puzzling him. Gordon receives a call that chemical manufacturer Lambert has been found murdered. They have Lambert's son in custody, whose fingerprints were found on the knife. Gordon invites Bruce Wayne to the Lambert mansion with him, and Bruce Wayne says he has nothing better to do.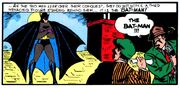 When they arrive at the crime scene, young Lambert insists he is innocent. The lad explains that he arrived home early and saw his father lying on the floor. When he entered the library, he saw a figure escaping out the window. He pulled a knife out of his father's back, and his father's last word was "contract." Lambert's son recalls that his father had three associates, Alfred Stryker, Paul Rogers, and Steve Crane. Steve Crane calls Gordon on the phone. Lambert told Crane that he had received a death threat the previous day. Crane has received a similar death threat, and asks for police protection. Bruce Wayne decides to go home, and Gordon rushes over to the Crane residence.

Steven Crane is killed by a gunman who enters through the window. The thug and his partner steal a paper from Crane and climb onto the roof. They are confronted by a figure they recognize as the Bat-Man, standing in the moonlight. The Bat-Man punches the first thug out, then grabs the second one in a headlock and throws him off the second-story roof. He grabs the paper and escapes as Gordon is pulling up. The GCPD try to arrest the Bat-Man, but they are unable to catch him. Gordon learns that Crane has been murdered, and moves on to the next business partner. The Bat-Man smiles when he reads the paper he stole, and drives off in his automobile.
Paul Rogers visits the laboratory of Alfred Stryker, having learned of Lambert's death by news broadcast. Stryker's assistant Jennings clubs Rogers over the head and ties him up. Jennings explains that he will lower a gas chamber over Rogers and kill him the same way he puts animals to sleep. Jennings leaves to activate the gas. The Bat-Man leaps into the room through an open transom. The Bat-Man grabs a wrench and dives inside the gas chamber before it closes.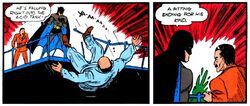 He plugs the gas jet with a handkerchief, and busts through the glass with his wrench. Jennings returns and tries to pull a gun on the Bat-Man, but the Bat-Man punches him in the face really hard. Alfred Stryker enters and demands to know what happened. When Rogers explains that Jennings tried to kill him, Stryker pulls out a knife to finish the job. The Bat-Man is hiding in the shadows, and he grabs Stryker from behind to stop him.
The Bat-Man explains to Rogers that they were all partners in the Apex Chemical Corporation. Stryker had made secret contracts with all of them to pay them a sum of money each year until he owned the business. He grew tired of waiting and decided to kill them so he wouldn't have to pay. Stryker breaks out of the Bat-Man's grip and pulls a gun on him. The Bat-Man punches Stryker so hard in the face that Stryker breaks through a railing and falls into a tank of acid. The Bat-Man remarks that this is a fitting end for his kind, and leaves via transom. Rogers tries to thank the Bat-Man, but he is already gone.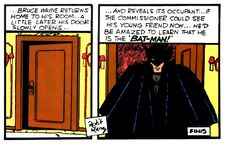 Later at his house, Commissioner Gordon relates this story to Bruce Wayne. Bruce remarks that this is a lovely fairy tale, and leaves. Gordon thinks to himself that Bruce Wayne is a nice young chap, but he seems to lead a very boring life. Bruce returns home to Wayne Manor, where it's revealed that he is in fact the Bat-Man.

Appearing in "The Case of the Chemical Syndicate"
Featured Characters:
Supporting Characters:
Antagonists:
Henry Clay (Cover only)[1]
Jennings (henchman)
Alfred Stryker (Only appearance; dies)
Other Characters:
Locations:
New York City (not yet identified, see "Notes" below)

Apex Chemical Corporation (Mentioned only)
Crane Residence
Gordon Residence
Lambert Mansion
Stryker Laboratory
Wayne Manor (First appearance)
Items:
Vehicles:
Synopsis for "Robin the Boy Wonder"
This story is reprinted from Detective Comics #38.
When the owner of a traveling circus, named Mr. Haly, is confronted by thugs, they ask Mr. Haly to pay a "fine," but He refuses and as a result, his bestselling attraction, the Flying Graysons, are killed "accidentally" while performing that night. The Graysons' young son, Dick, overhears an incriminating conversation between Blade, the killer, and his employer Boss Zucco. Dick plans to call the police, but Batman, who has attended the show as the millionaire playboy Bruce Wayne, takes in Dick Grayson, instead of immediately pursuing the thugs. Batman trains Dick, already an excellent acrobat, how to become a crime-fighter. When a period of training is over, Dick is given a red, green, and yellow costume and adopts the identity of Robin, the Boy Wonder.
Dick debuts as Batman's sidekick, and the Dynamic Duo hunt down the extortion gang, and their leader, Boss Zucco. Zucco's new plan is to demolish a skyscraper construction site (the Canin Building), but Robin and Batman defeat the gang in a dangerous battle on the high girders, during which Robin uses a sling to knock one thug off a steel beam and kicks a second gunman off another girder. Zucco is recorded by Robin in the act of pushing Blade to his death and this evidence is given to the police, leading to Zucco's conviction for murder. In the end, Robin vows to be Batman's partner against crime.

Appearing in "Robin the Boy Wonder"
Featured Characters:
Supporting Characters:
Antagonists:
Boss Zucco (First appearance)

Zucco's bodyguards and enforcers: Blade (Dies), others (two more die)
Other Characters:
Locations:
Items:
Synopsis for "The Million Dollar Debut of Batgirl!"
This story is reprinted from Detective Comics #359.
Barbara Gordon, daughter of Gotham City Police Commissioner, James Gordon, prepares to attend a policeman's charity masquerade ball. She designs a costume in the style of Batman and names herself, Batgirl.
As she arrives at the country club, she finds a villain named Killer Moth and his Moth-Men attacking one of the guests, Bruce Wayne. Batgirl dives into them, giving Wayne a chance to escape. Bruce takes this opportunity to change into Batman, then returns to the spot to give Batgirl a hand. Killer Moth uses his silk gun to web Batgirl to the side of Bruce's car, and then escapes with his underlings. Batman pulls Batgirl free and introductions are made between the two.
The following day, Bruce Wayne receives a letter in the mail. Killer Moth wants him to pay $100,000 or else he will murder him. Bruce consults with Dick Grayson and the two lay a trap for Killer Moth.
That evening, Barbara Gordon leaves the library where she works. She has acquired a rare book that she intends on selling to Bruce Wayne. As she arrives at Wayne Manor, she finds Bruce lying dead in his study, with Killer Moth and his goons hovering above him. She hurriedly changes into Batgirl and leaps into the study. She fights off all three men at once, but once again, they succeed in escaping. Batman and Robin appear and tell her that the body of Bruce Wayne is actually just a dummy. They were laying a trap for Killer Moth in the hopes of tracking him back to his lair, but Batgirl spoiled their plans. Fortunately, Batgirl had planted a tracer on the Mothmobile so they can easily trail their foes back to Moth Mansion.
Batman and Robin arrive at the mansion first and enter through the front foyer. They suddenly discover that the room is in fact a gravity-well and they begin floating towards the ceiling. Batgirl follows in behind them and uses magnetic boots to keep herself on the floor. She disables the gravity-well, setting the caped crusaders free.
Batgirl manages to find the secret closet panel where Killer Moth is hiding. Batman and Robin each knock him out with one solid double punch. After taking the villain to prison, they say goodbye to Batgirl wondering when, or if, they will ever meet her again.

Appearing in "The Million Dollar Debut of Batgirl!"
Featured Characters:
Supporting Characters:
Antagonists:
Other Characters:
Burton Talbot (Single appearance)
Locations:
Items:
Killer Moth's Silk Gun
Gravity Well
Vehicles:
Synopsis for "There is No Hope in Crime Alley!"
This story is reprinted from Detective Comics #457.
Every night on the same date, Batman abandons all other crimes and missions and secretly heads to visit Leslie Thompkins in Park Row, or better known as Crime Alley. En route, Batman stops several crimes including a car radio theft and two muggings; one of which happens to Miss Thompkins. As Batman saves the old lady, one of the muggers pulls a gun on him and Batman loses his temper, beating the thug to a pulp while having a flashback of his parents' murder and his "rescue" by a young Leslie Thompkins.
He is brought back to reality by the current, elderly Leslie who knows Batman visits her annually on this date, but doesn't know why. Batman tells her it's a reminder of who he is and probably of his own demise. Batman then asks Leslie why she stays in Crime Alley and she tells him that once she witnessed a terrible tragedy - a child whose parents were murdered before his eyes - and has devoted her life to trying to prevent another tragedy. Batman kisses her on the forehead calling her the hope of Crime Alley.
At dawn, Alfred finds Batman sleeping in a chair at the Wayne Penthouse with a smile on his face.

Appearing in "There is No Hope in Crime Alley!"
Featured Characters:
Supporting Characters:
Antagonists:
Gooch (Single appearance)
Alfie (Single appearance)
Joe Chill (Flashback only) (First appearance)
Other Characters:
Locations:
Items:
Vehicles:
Synopsis for "To Kill a Legend"
This story is reprinted from Detective Comics #500.
To allow Bruce Wayne to sooth his survivor's guilt about witnessing his parents' murder, the Phantom Stranger transports Batman and Robin to a parallel Earth where they must attempt to stop that world's Joe Chill from killing Thomas and Martha Wayne.
Once there, Batman and Robin encounter some criminals and defeat them easily in part by frightening them by their bizarre appearances. However, that engagement finds them confronted by Lieutenant James Gordon and police officers. Knowing that Gordon would never believe any explanation of why they are there while in their superhero personas, the Dynamic Duo are forced to escape by force.
Being only relatively inconvenienced by being wanted by the police, the Duo investigate the Waynes, and Robin is concerned that this Bruce Wayne is a spoiled brat in a troubled family. Regardless, Batman infiltrates the police department disguised as Gordon, only to find there is no file on Joe Chill. With that trail cold, the Duo seeks out and attacks Lew Moxon, the gangster who hired Chill to murder Thomas Wayne on Earth One. Unfortunately, Moxon had not hired Chill yet, and now frightened by the attention of these bizarre vigilantes questioning him, he decides to move up his timetable to kill Thomas Wayne and now Chill as well.
During their short time in that Earth, Batman and Robin have an ethical disagreement as it seems like that Earth doesn't have real heroes, or fictional ones for that matter. Robin believes that Batman should be allowed to exist, but Batman won't allow the Waynes to be murdered... again.
Despite the moral conflicts of the whole ordeal, Batman is unaware that his intervention causes the event in which the Waynes are killed to happen early, and that Chill is now not part of it. Meanwhile, determined to find Chill, Batman breaks into the GCPD's computer room to learn there is an interstate bulletin for Chill who is believed to be heading for Gotham. Unfortunately, Batman is discovered by Gordon, but the Dark Knight manages to persuade the police detective to help him. Batman shortly finds Chill, but he is dying by Moxon's thug. Realizing his mistake, Batman deduces the murder attempt on the Waynes would occur that night because the 20 year difference from his own parents' death does not accounted for five leap year days. As such, Batman races for Crime Alley.
Meanwhile, Robin is shadowing the Waynes and is still deeply conflicted that he would be robbing that Earth of its own Batman if he intervenes in the murder. However, when Moxon's goon appears to kill Thomas, Robin decides he cannot let innocent people die, but before he can strike, Batman saves the Waynes.
Their mission successful, the Phantom Stranger returns the heroes to their own world, with reassurances that not only Thomas and Martha would benefit. Indeed, the deed has changed the young Bruce Wayne's life, who, to the mystified delight of his parents, now changes his demeanour into one better behaved and more studious with new interests in physical exercise and in detective work with books on criminology and the stories of Sherlock Holmes. The reason for this change is that he wants to become the "Bat Creature" who saved them. Thus the Batman will exist, although this time is not because of vengeance, but for an inspired motivation in gratitude of the stranger who saved his family's lives.

Appearing in "To Kill a Legend"
Featured Characters:
Supporting Characters:
Antagonists:
Other Characters:
Locations:
Items:
Synopsis for "Monsters in the Closet"
This story is reprinted from Batman: Black and White #4.
Batman spots a strange liquid being thrown out of a building while keeping a watch on the city. Discovering that the building belongs to the Langdales, whose heiress recently went missing, he discovers that the liquid contains a strange small creature. Deciding to investigate the building, he comes upon a scientist creating strange hybrids and claiming he's doing it legally. Batman however spots water coming from behind a book shelf and upon investigating, discovers it is hiding a secret room.
Batman discovers a tank containing man and woman (the missing Langdale heiress) turned into hybrids, before being shot at by the scientist. The bullet however hits the tank instead and the force of water drags everyone outside. Batman gets grabbed by the Male hybrid and knocks him out, but is unable to save the scientist who gets dragged away into the ocean by the heiress. Upon inspecting further, he realizes the hybrid couple must have laid thousands of eggs which need to be destroyed to prevent any danger.

Appearing in "Monsters in the Closet"
Featured Characters:
Antagonists:
Mad scientist
Aquatic Hybrids
Other Characters:
Locations:
Items:
Trivia
Walmart exclusive released in honor of Batman's 80th anniversary.
See Also
Recommended Reading
Links and References