Boba Fett Returns - The Loop
Play Sound
"The Bat-Man: "The Case of the Chemical Syndicate"": Commissioner Gordon relaxes at home entertaining his young socialite friend Bruce Wayne. Wayne asks if anything exciting has happened lately, and Gordon explains that a fellow called
Detective Comics #27 is an issue of the series Detective Comics (Volume 1) with a cover date of May, 1939. It was published on March 30, 1939.

Commissioner Gordon relaxes at home entertaining his young socialite friend Bruce Wayne. Wayne asks if anything exciting has happened lately, and Gordon explains that a fellow called the "Bat-Man" is puzzling him. Gordon receives a call that chemical manufacturer Lambert has been found murdered. They have Lambert's son in custody, whose fingerprints were found on the knife. Gordon invites Bruce Wayne to the Lambert mansion with him, and Bruce Wayne says he has nothing better to do.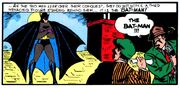 When they arrive at the crime scene, young Lambert insists he is innocent. The lad explains that he arrived home early and saw his father lying on the floor. When he entered the library, he saw a figure escaping out the window. He pulled a knife out of his father's back, and his father's last word was "contract." Lambert's son recalls that his father had three associates, Alfred Stryker, Paul Rogers, and Steve Crane. Steve Crane calls Gordon on the phone. Lambert told Crane that he had received a death threat the previous day. Crane has received a similar death threat, and asks for police protection. Bruce Wayne decides to go home, and Gordon rushes over to the Crane residence.

Steven Crane is killed by a gunman who enters through the window. The thug and his partner steal a paper from Crane and climb onto the roof. They are confronted by a figure they recognize as the Bat-Man, standing in the moonlight. The Bat-Man punches the first thug out, then grabs the second one in a headlock and throws him off the second-story roof. He grabs the paper and escapes as Gordon is pulling up. The GCPD try to arrest the Bat-Man, but they are unable to catch him. Gordon learns that Crane has been murdered, and moves on to the next business partner. The Bat-Man smiles when he reads the paper he stole, and drives off in his automobile.
Paul Rogers visits the laboratory of Alfred Stryker, having learned of Lambert's death by news broadcast. Stryker's assistant Jennings clubs Rogers over the head and ties him up. Jennings explains that he will lower a gas chamber over Rogers and kill him the same way he puts animals to sleep. Jennings leaves to activate the gas. The Bat-Man leaps into the room through an open transom. The Bat-Man grabs a wrench and dives inside the gas chamber before it closes.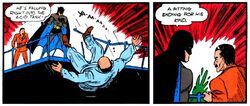 He plugs the gas jet with a handkerchief, and busts through the glass with his wrench. Jennings returns and tries to pull a gun on the Bat-Man, but the Bat-Man punches him in the face really hard. Alfred Stryker enters and demands to know what happened. When Rogers explains that Jennings tried to kill him, Stryker pulls out a knife to finish the job. The Bat-Man is hiding in the shadows, and he grabs Stryker from behind to stop him.
The Bat-Man explains to Rogers that they were all partners in the Apex Chemical Corporation. Stryker had made secret contracts with all of them to pay them a sum of money each year until he owned the business. He grew tired of waiting and decided to kill them so he wouldn't have to pay. Stryker breaks out of the Bat-Man's grip and pulls a gun on him. The Bat-Man punches Stryker so hard in the face that Stryker breaks through a railing and falls into a tank of acid. The Bat-Man remarks that this is a fitting end for his kind, and leaves via transom. Rogers tries to thank the Bat-Man, but he is already gone.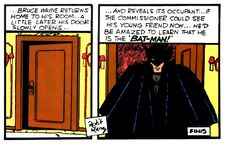 Later at his house, Commissioner Gordon relates this story to Bruce Wayne. Bruce remarks that this is a lovely fairy tale, and leaves. Gordon thinks to himself that Bruce Wayne is a nice young chap, but he seems to lead a very boring life. Bruce returns home to Wayne Manor, where it's revealed that he is in fact the Bat-Man.

Featured Characters:
Supporting Characters:
Antagonists:
Henry Clay (Cover only)[1]
Jennings (henchman)
Alfred Stryker (Only appearance; dies)
Other Characters:
Locations:
New York City (not yet identified, see "Notes" below)

Apex Chemical Corporation (Mentioned only)
Crane Residence
Gordon Residence
Lambert Mansion
Stryker Laboratory
Wayne Manor (First appearance)
Items:
Vehicles:
Synopsis for Speed Saunders: "Killers of Kurdistan"
A policeman had informed Speed Saunders that they had recently dragged from the river. Upon searching the corpse, Speed found a letter with a red crescent moon symbol. Later, he went to visit Trelawney, an expert on Eastern lore. Trelawney happened to be hosting a party at the time, but still invited Speed inside. Trelawney introduced Speed to some of his guests, one of who wasn't wearing the red crescent moon symbol. Then, Speed asked Trelawney if he knew anything about the symbol.
Speed and Trelawney went to a more private location where the latter told the former about how he went to Arabia with his friend Tom and witnessed a meeting of the Kurdistan Killers and joined them. Then, the two ended their conversation while Speed decided to look for Moreno clues while Trelawney danced with his female guest. Suddenly, Trelawney was shot in the back and killed. Speed ordered the building to be locked down while the state police showed up. The two searched the area until they found the maid, who told them that her husband had ties to some woman. Suddenly, Speed and the policeman saw the husband running outside the window. The policeman shot dead the husband and went outside with Speed to the man Hassan's dying body. The man confessed to killing Trelawney and revealed that he was forced to do so by the woman whom he had danced with before he died. Later, they arrested the woman, who called herself the Veiled Prophetress of the Killers of Kurdistan.

Appearing in Speed Saunders: "Killers of Kurdistan"
Featured Characters:
Antagonists:
Kurdistan Killers (Single appearance)

The Veiled Prophetress of the Killers of the Kurdistan (Single appearance)
Hassan (Only appearance; dies)
Other Characters:
Trelawney (Only appearance; dies)
Tom (Appears only as a corpse)
Hassan's wife
Locations:
Synopsis for Buck Marshall: "Bullet Bluff"
As Buck Marshall was patrolling down the valley trail, he saw a man speed by him in his horse. Buck followed the rider until they reached the sheriff's office. When they both arrived, the sheriff told Buck that the rider's name was Matt Doyle and that he had found his boss Jerry Kane shot to death.
Buck, the sheriff, and Matt rode to Box-K, where Matt worked and found Jerry's corpse. Buck deduced that Jerry's corpse had been moved due to the gunshot wounds, one that killed him and three shot at him after his death.
Suddenly, Jack Stark, the foreman of the T-4 outfit had arrived. Buck and the sheriff questioned Stark if he knew anything about a black cartridge that they had found on Kane's corpse. Suddenly, they heard Stark picking up a hammer from a toolbox and Buck aimed his pistol at him. Buck confronted and took Stark into custody, who revealed that both he and Kane had worked for cattle rustlers and that he was ordered to kill him for his betrayal.

Appearing in Buck Marshall: "Bullet Bluff"
Featured Characters:
Supporting Characters:
Antagonists:
Jack Stark (Single appearance)
Other Characters:
Matt Doyle (Single appearance)
Jerry Kane (Appears only as a corpse)
Locations:
Synopsis for Bart Regan, Spy: "The Mysterious Murders"
At a dinner, Congressman Sneed, the guest of honor and head of a committee investigating un-American activities suddenly died. At the headquarters of the U.S. Spy Service, Bart Regan learned that the congressman had died from internal hemorrhage and that another member of the committee has died in a similar way.
In order to protect the other three committee members, Bart visited Congressman Little, who invited him for lunch and was killed moments later. Then, he called a doctor, who claimed that Little had died of internal hemorrhage. Then, Regan visited congressmen Booker and Stoker and had them come with him and take false names for their protection. Booker gave Regan a note that he would have to show to his secretary in order to gain certain files.
Regan picked up the files and the key to Booker's apartment. Suddenly a man with a gun entered Booker's apartment through a window. The man claimed that he was hungry, so Regan fed him and the man went on his way, thanking him before dying moments later. Then, Regan went on the phone and quickly warned Booker and Stoker to not eat anything.
Regan returned to their location in order to investigate the food and found a miniature bomb with a cellulose container that dissolves and kills a person instantly upon being swallowed. Bart returned to his apartment where there were men who confronted him about the hungry hobo's death. The men took Bart to their boss, who ordered the deaths of the committee members. Bart was able to defeat the killers, ending another case.

Appearing in Bart Regan, Spy: "The Mysterious Murders"
Featured Characters:
Antagonists:
Enemy spies (Only appearance; dies)
Other Characters:
Congressman Booker (Single appearance)
Congressman Stoker (Single appearance)
Booker's secretary (Single appearance)
Congressman Little (Only appearance; dies)
Congressman Sneed (Appears only as a corpse)
Hobo (Only appearance; dies)
Locations:
Synopsis for The Crimson Avenger: "Murder on the Oceanic Line Docks"
At the Oceanic Line Docks, a man named Abe Gold was murdered. Twenty minutes later, a car crowded another into a post, causing the driver, who was badly mutilated, to be rushed to the hospital. Suddenly, three men came in from an ambulance and held the doctors at gunpoint, demanding that the driver came with them. The doctor refused, so the gunman attacked him.
Lee Travis learned that a nightclub owner named Abe Gold was murdered and so was a nurse in a hospital kidnapping. Later, he went to a police garage where he found a wrecked car. He searched the car and found a camera without its film. Next, he told Wing How that they were going to recover the missing film that could lead them to the murderer. Lee speculated that Beard, the driver of the car, took a picture of Gold's murder and was kidnapped from the hospital to silence him. Later, the Crimson Avenger went to a gambling den known as Frank's Place, where he had a brief encounter with its owner. Meanwhile, in a dark alley, two policemen found Beard's body. Next, Crimson went to Mike Moran's office, where he encountered its owner. Crimson told Moran that he was looking for the murderer of Abe Gold. However, Moran responded that it was a gang who killed him and that he had no gang. Next, Crimson went to Sol Simon's dog racetrack, where a guard spotted and apprehended him, restrained him and incarcerated him. However, due to Crimson's strength, he easily broke free of his restraints and attacked Moran's men. Crimson confronted Moran about the murders of Abe Gold and Beard. Next, Moran attempted to shoot Crimson, but was quickly disarmed. However, he fired a shot, which was heard by the police. At the jail house, one officer informed the chief that he received a check for $8,000 from Moran, for the Crimson Avenger, confused about its meaning. Later on, the chief noticed that the check had suddenly disappeared. The Crimson, who had taken the check, decided that it should go to charity.

Appearing in The Crimson Avenger: "Murder on the Oceanic Line Docks"
Featured Characters:
Supporting Characters:
Antagonists:
Frank (Single appearance)
Mike Moran (Single appearance)
Other Characters:
Alan Gold (Single appearance)
Beard (Single appearance)
Locations:
New York City

Globe Leader, newspaper office
Oceanic Line Docks
Frank's Place

Synopsis for "Death On The Airwaves"
At Studio A of the Federal Broadcasting System, an orchestra was being recorded while many listened to the symphony on their radios. Suddenly, a man named Richard Drew had stepped onto the stage and attempted to sing. However, Drew could not as he had collapsed. A doctor had came and pronounced Drew to be dead. Benson, the president of the company came down in hopes of helping. Later on, the opera singer Elaine Rutland and the comedian Eddie Dorson had both died in a similar way. Finally, Benson enlisted the aid of law enforcement. Benson claimed to Captain Richard Byrne that the three individuals had been murdered and showed him a threatening note that the studio had received. Afterwards, Benson had asked Byrne to stay at the studio and stand guard. Eventually, Brian DiAngelo was supposed to sing, but when he was next to the microphone, blue smoke came out of it and disoriented him. Byrne quickly rushed into the control room to confront the murderer and had subdued him. Byrne revealed that the killer had committed the crimes because he had failed to pass an audition.

Appearing in "Death On The Airwaves"
Featured Characters:
Supporting Characters:
Antagonists:
Other Characters:
Richard Drew (Single appearance)(Dies)
Elaine Rutland (Mentioned only) (Dies)
Eddie Dorson (Mentioned only) (Dies)
Locations:
Studio A

Westchester

 (Mentioned only)

Synopsis for Bruce Nelson: "The New Orleans Mardi Gras Murders, Part 1"
Bruce decided to pay his friend Ed Lane a visit at his apartment. Ed told Bruce that a woman named Lili Garvet, who was accused of being a witch, was murdered in the French Quarter. They went to her house and found a voodoo symbol. Then, they entered her home and saw her corpse in front of various voodoo paraphernalia. The two men continued to investigate and started to believe that voodoo had been involved in the woman's death. Eventually, Ed found an ash tray with gummy lumps. Ed lit up the lumps and put them back in the tray, but was suffocated by poisonous gas. Meanwhile, Bruce detected the gas and decided to save his friend.

Appearing in Bruce Nelson: "The New Orleans Mardi Gras Murders, Part 1"
Featured Characters:
Supporting Characters:
Ed Lane (First appearance)
Other Characters:
Lili Gravet (Appears only as a corpse)
Locations:
Synopsis for "The Insidious Dr. Fu Manchu (Part 11 of 12)"
Dennis Nayland Smith was telling Reverend Eltham that China was too dangerous for him to return to. However, the reverend insisted that he had to visit Nan Yang, which Smith responded by warning him of the "Yellow Peril." They were interrupted when they heard a woman's scream. Smith, Petrie, and Eltham ran to see that the reverend's daughter, Greba, had fainted. When Greba regained consciousness, she said that she had seen two green eyes by the window. Then, Greba told Petrie that Vernon Denby had told her that some "awful Chinamen" were trying to kill Smith and that the same men may have entered her father's room the night before. She claimed that her dog Caesar had sensed intruders. They had suspected that Fu Manchu had something to do with the intrusion. Then, Smith and Petrie continued to investigate Eltham's house.

Appearing in "The Insidious Dr. Fu Manchu (Part 11 of 12)"
Featured Characters:
Supporting Characters:
Antagonists:
Other Characters:
Greba Eltham (Flashback and main story)
Rev. J. D. Eltham
Vernon Denby
Locations:
Synopsis for Cosmo, the Phantom of Disguise: "Illegal Aliens"
Cosmo was called to immigration headquarters where he was asked to help investigate the smuggling of Chinese people onto their shores. Then, Cosmo enrolled in the Frisco School of Languages to learn Chinese. After a month, he left for Chinatown and disguised himself as a Chinese man. On a bus, Cosmo met a Chinese man named Ven Lo, who took him to a room that his friend had for rent. Cosmo, under the alias Foo Lee, offered to Ven Lo to dinner. Cosmo received an invitation to the Feast of the Dragon. At the feast, Ven Lo had met up with Kwan Joy Lo from Shanghai, who had told him about a shipment. Ven Lo introduced "Foo Lee" to Kwan Joy Lo and told him about a job opportunity. Cosmo was taken to Oshi Pai Shipping near the wharf and boarded onto a barge with coal. The boat carrying the barge sailed out to sea, where it was met by a bigger ship that transferred Chinese people to the barge. When they had returned to the wharf, the Chinese people had noticed that Cosmo was not Chinese and they attempted to pursue him. Cosmo rushed away into the port, where Kwan Joy Lo was waiting, and punched him, before barricading a door with crates. Then, Cosmo contacted the police and fought off the gang of Chinese smugglers while waiting for the police to arrive. The police had arrived and attempted to arrest Cosmo, accusing him of being a smuggler, which they later realized that he was, in fact, Cosmo in disguise. Then, Cosmo phoned the Coast Guard, telling them to pick up the coal barge.

Appearing in Cosmo, the Phantom of Disguise: "Illegal Aliens"
Featured Characters:
Cosmo, the Phantom of Disguise
Antagonists:
Smugglers

Kwan Joy Lo (Single appearance)
Other Characters:
Locations:
Synopsis for Slam Bradley: "The Murderer on Vacation"
Slam Bradley and Shorty Morgan were driving, taking a break from manhunting, when a car pushed them off of the road. Then, the driver of the other car came out and held a gun at Slam, who responded by punching him the face. Suddenly, the passenger of the car came out and introduced himself as federal man Dick Kelly, who had been kidnapped by the murderer Blackjack Benson. Later on, Slam and Shorty became good friends with Dick, while reading a headline of the capture of Blackjack Benson. One month later, Blackjack was in prison on death row, when his accomplice Nicky, who was disguised as a guard, broke him out of the prison, fleeing in a car. Meanwhile, Dick was about to leave for Switzerland, while Shorty had brought up that there was a manhunt for Blackjack. Slam gave Dick a watch as a parting gift. Days later, Slam and Shorty had not heard from Dick and were worried. They decided to visit the federal men headquarters, where they learned that they had not heard from Dick either, so they decided to travel to Switzerland. When they arrived in Switzerland, they stayed at Donner Inn and Slam had searched the inn register for Dick's name. Meanwhile, Shorty was skiing outside and had met a woman named Gale Dennis, who walked away after a hostile encounter with a man named Helger Wetjen. Slam and Shorty suspected that they had seen Helger Wetjen before. Later, they went to their rooms and had taken out a watch that Helger had given them. Then, the two detectives went to look for Helger and told him that they would like to take the winter sports course. At 5:00 A.M., the next day, Slam and Shorty had joined a mountain climbing party. While climbing, Helger took out a knife and cut Shorty's rope, but he grabbed onto a ledge before he fell. Slam went back down to recover Shorty and had suspected that the rope had been cut. Later that night, they had spotted Helger and Gale and followed them to a cave. At the cave, they had encountered Blackjack, who told them that Helger was his brother. Slam asked what had happened to Dick Kelly, so the three conspirators put the two detectives on a toboggan and pushed them into a chasm. Afterwards, Blackjack made preparations to relocate, when Slam and Shorty had emerged and subdued him and his accomplices. A newspaper article read that Blackjack was electrocuted at noon, while Slam told the chief of police that he and Shorty had escaped by overturning the toboggan with their weight and freeing themselves from their restraints.

Appearing in Slam Bradley: "The Murderer on Vacation"
Featured Characters:
Supporting Characters:
Antagonists:
Blackjack Benson (Single appearance)
Helger Wetjen (Single appearance)
Gale Dennis (Single appearance)
Nicky (Single appearance)
Other Characters:
Dick Kelly (Only appearance; dies)
Heine (Single appearance)
Locations:
Notes
Published by Detective Comics, Inc.
This issue has been reprinted many times, because it is the historic first appearance of Batman. Famous First Edition C-28 and Millennium Edition: Detective Comics #27 reprint the full issue in its entirety. The Bat-Man story is reprinted or partially reprinted in several more issues and collected editions:
The basic plot to "The Case of the Chemical Syndicate" is widely thought to have copied another series. "Maxwell Grant" wrote an almost identical story about The Shadow titled "Partners of Peril" several years earlier (Nov 1936).
"The Case of the Chemical Syndicate" has been revised and rebooted several times. It is retroactively said to be part of the universe Earth-Two, with DC's other Golden Age stories. Roy Thomas wrote an expanded version of the story in 1986, tying it into the rest of Bruce Wayne's origins.[2] Mike Friedrich wrote an Earth-One version of the story in 1969.[3] Marv Wolfman and Alan Grant wrote two different Post-Crisis versions of the story in 1991.[4] Brad Meltzer wrote a 2014 version of the story taking place in New 52 continuity.[5]
The expanded version of this story in Secret Origins (Volume 2) #6 adds some details and changes others.

This is Bruce Wayne's second outing as Batman. His first case was stopping "Slugsy" Kyle.[6]
Bruce Wayne visits Jim Gordon for advice on a potential career in the NYPD. Gordon was an old friend of Bruce's uncle, Philip Wayne.
The elder Lambert is given the first name "David."
The younger Lambert is given the first name "John."
The officer who arrests John Lambert is called "Sgt. Farraday."
Batman shatters the glass case and saves Paul Rogers without entering it himself.
There is no killing. The thugs on the rooftop are handled non-lethally. Alfred Stryker is not intentionally pushed into the vats, he escapes and trips over a railing. Batman yells out to caution Stryker, but still utters "a fitting end for his kind" at the man's death.
That retcon version is specifically set in "Gotham City", rather than New York City.

In the original comics, the Bat-Man's home city is not identified until Detective Comics #33 (Nov 1939), in which it is named New York City.
Starting with Batman #4, Dec 1940, the name "Gotham City" was adopted.

Batman is called The Bat-Man in this issue.
This issue shows that Bruce Wayne enjoys pipe tobacco.
Commissioner Gordon's first name is not yet given.
This is Batman's first appearance, as well as Commissioner Gordon's.
Slam Bradley's "The Murderer on Vacation" is reprinted in Detective Comics: 80 Years of Batman: The Deluxe Edition.
Trivia
Also appearing in this issue of Detective Comics was:
The cover to this issue is iconic, and many artists have done homages. These are some examples:
See Also
Recommended Reading
Links and References


Look at how sad this is making Batman.
You did this
.