Spider-Man: No Way Home Trailer Dropped - The Loop
Play Sound
"The Case of the Chemical Syndicate": This story is reprinted from Detective Comics #27. Detective Comics #27 is an issue of the series Detective Comics (Volume 2) with a cover date of July, 2014. It was published on May 23, 2014.

This story is reprinted from Detective Comics #27.
Commissioner Gordon relaxes at home entertaining his young socialite friend Bruce Wayne. Wayne asks if anything exciting has happened lately, and Gordon explains that a fellow called the "Bat-Man" is puzzling him. Gordon receives a call that chemical manufacturer Lambert has been found murdered. They have Lambert's son in custody, whose fingerprints were found on the knife. Gordon invites Bruce Wayne to the Lambert mansion with him, and Bruce Wayne says he has nothing better to do.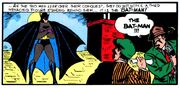 When they arrive at the crime scene, young Lambert insists he is innocent. The lad explains that he arrived home early and saw his father lying on the floor. When he entered the library, he saw a figure escaping out the window. He pulled a knife out of his father's back, and his father's last word was "contract." Lambert's son recalls that his father had three associates, Alfred Stryker, Paul Rogers, and Steve Crane. Steve Crane calls Gordon on the phone. Lambert told Crane that he had received a death threat the previous day. Crane has received a similar death threat, and asks for police protection. Bruce Wayne decides to go home, and Gordon rushes over to the Crane residence.

Steven Crane is killed by a gunman who enters through the window. The thug and his partner steal a paper from Crane and climb onto the roof. They are confronted by a figure they recognize as the Bat-Man, standing in the moonlight. The Bat-Man punches the first thug out, then grabs the second one in a headlock and throws him off the second-story roof. He grabs the paper and escapes as Gordon is pulling up. The GCPD try to arrest the Bat-Man, but they are unable to catch him. Gordon learns that Crane has been murdered, and moves on to the next business partner. The Bat-Man smiles when he reads the paper he stole, and drives off in his automobile.
Paul Rogers visits the laboratory of Alfred Stryker, having learned of Lambert's death by news broadcast. Stryker's assistant Jennings clubs Rogers over the head and ties him up. Jennings explains that he will lower a gas chamber over Rogers and kill him the same way he puts animals to sleep. Jennings leaves to activate the gas. The Bat-Man leaps into the room through an open transom. The Bat-Man grabs a wrench and dives inside the gas chamber before it closes.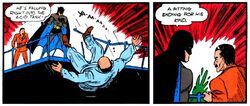 He plugs the gas jet with a handkerchief, and busts through the glass with his wrench. Jennings returns and tries to pull a gun on the Bat-Man, but the Bat-Man punches him in the face really hard. Alfred Stryker enters and demands to know what happened. When Rogers explains that Jennings tried to kill him, Stryker pulls out a knife to finish the job. The Bat-Man is hiding in the shadows, and he grabs Stryker from behind to stop him.
The Bat-Man explains to Rogers that they were all partners in the Apex Chemical Corporation. Stryker had made secret contracts with all of them to pay them a sum of money each year until he owned the business. He grew tired of waiting and decided to kill them so he wouldn't have to pay. Stryker breaks out of the Bat-Man's grip and pulls a gun on him. The Bat-Man punches Stryker so hard in the face that Stryker breaks through a railing and falls into a tank of acid. The Bat-Man remarks that this is a fitting end for his kind, and leaves via transom. Rogers tries to thank the Bat-Man, but he is already gone.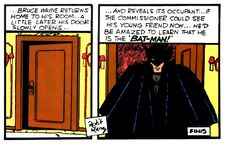 Later at his house, Commissioner Gordon relates this story to Bruce Wayne. Bruce remarks that this is a lovely fairy tale, and leaves. Gordon thinks to himself that Bruce Wayne is a nice young chap, but he seems to lead a very boring life. Bruce returns home to Wayne Manor, where it's revealed that he is in fact the Bat-Man.

Featured Characters:
Supporting Characters:
Antagonists:
Henry Clay (Cover only)[1]
Jennings (henchman)
Alfred Stryker (Only appearance; dies)
Other Characters:
Locations:
New York City (not yet identified, see "Notes" below)

Apex Chemical Corporation (Mentioned only)
Crane Residence
Gordon Residence
Lambert Mansion
Stryker Laboratory
Wayne Manor (First appearance)
Items:
Vehicles:
This story is reprinted from Detective Comics (Volume 2) #27.
Bruce Wayne has thrown a police fundraiser at his home, with all of the GCPD in attendance. Naturally, he has used the opportunity to have their cars bugged. When Jim Gordon's facial expression changes, Bruce has more than intuition to thank for the knowledge that someone's been murdered. The victim is Victor Lambert, who was stabbed and whose body was found by his own son. Lambert was one of four private shareholders in A.C.E. Chemical. With Alfred Pennyworth's help, Bruce learns that Lambert called his wife, his son, his mistress, and a Mr. Steven Crane in the last twenty-four hours. The latter of whom received thirteen calls.
Bruce's interest in police matters stems from his childhood. Ever since his parents were murdered before his eyes, he has been driven to see that no one ever has to go through what he went through by beginning a crusade against crime. It helps that he comes from old money, and therefore has the means to do so in an extraordinary way. After all, criminals are a superstitious and cowardly, and having become the Batman, his extraordinary measures are highly effective.
As Batman, he pays a visit to Steven Crane's apartment, and finds him dead, with his murderers in the process of hurriedly burning files and evidence from A.C.E. Chemicals. He catches them in the act, and takes them down, looking over the few files left intact. What he learns from them disturbs him.
At the A.C.E. Chemical plant, the remaining two of the four partners in the company realize that they may be next following the murder of both Victor and Steven. Thinking they might be better off going to the police directly and together, they make an exit. On the way, though, Alby Stryker turns on Paul Rogers and locks him within an aerosol chamber. The other three had been planning to edge him out of his holdings, and he seeks revenge. Fortunately, Batman arrives in time to save Paul, but with only one rebreather, he finds himself locked inside with the toxic gas, and likely to die. Determinedly, though, he smashes through a window, and chases down Stryker.
He corners him on a catwalk, just as Jim Gordon arrives, and orders both men to freeze. Stryker pulls a gun, and instinctively, Batman leaps at him, accidentally kicking him into a vat of chemicals beneath the catwalk. Batman is forced to drop a smoke bomb and rappel away before Gordon's backup can shoot him down. Fortunately, Rogers explains that Batman saved him, and Bruce gets away cleanly.
Stryker is later revealed to be alive when his hand emerges. It is implied that he becomes the Joker.

Featured Characters:
Supporting Characters:
Antagonists:
Other Characters:
Locations:
Items:
Vehicles:
Notes
Free giveaway comic book for Batman Day 2014 (Batman's 75th anniversary on July 23)
See Also
Links and References