Hawkeye Is Here To Amaze - The Loop
Play Sound
"The Deadshot Ricochet": After apprehending the The Penguin, the Batman and Robin return to the Batcave II for some well-deserved rest. They begin some light-hearted sparring with one another
Detective Comics #474 is an issue of the series Detective Comics (Volume 1) with a cover date of December, 1977. It was published on September 27, 1977.

Synopsis for "The Deadshot Ricochet"
After apprehending the The Penguin, the Batman and Robin return to the Batcave II for some well-deserved rest. They begin some light-hearted sparring with one another, but the fun ends when Robin receives a distress call from Wonder Girl. He doesn't want to leave Bruce, but Batman urges him to attend his teammates in the Teen Titans.
Meanwhile at Gotham Prison, the warden ushers the Penguin into a cell next to Floyd Lawton, aka, Deadshot. The Penguin brags about his special laser monocle which he intends on using to escape from prison, but Deadshot snatches it from him and uses it to affect his own escape.
That evening, Batman goes to the Tobacconists' Club for an impromptu visit with city councilman Rupert Thorne. He criticizes him for the recent cease and desist against him and warns Thorne that from now on, they will play things "Batman's way". After Batman leaves his office, Rupert Thorne receives a haunting visitation by the ghost of Hugo Strange.
The following day, Bruce Wayne meets Silver St. Cloud at the Gotham Convention Center. Silver's company is hosting the event and while there, they run into Commissioner Gordon. Gordon tells Bruce Wayne about the recent escape of Deadshot. His mind hankers back to the first time that he fought against Deadshot.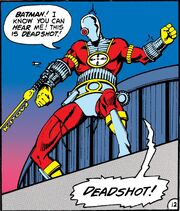 He then takes Silver to the Fox Gardens restaurant for lunch. Silver asks him a lot of questions and Bruce fears that she may suspect that he is Batman.
That night, Bruce goes on patrol as Batman, but he doesn't have far to go before he runs afoul of Deadshot. The two fight atop the Ellsworth Building and eventually make their way back to the convention center where they trade shots while leaping across a Giant Typewriter. Batman traps Deadshot behind the over-sized carriage return. Deadshot knows he is beaten and surrenders. As Batman looks up, he sees Silver St. Cloud staring back at him. She recognizes Batman as Bruce Wayne.
Elsewhere, the Joker plans his next nefarious scheme.

Appearing in "The Deadshot Ricochet"
Featured Characters:
Supporting Characters:
Antagonists:
Other Characters:
Locations:
Items:
Vehicles:
Notes
Trivia
See Also
Recommended Reading
Links and References