This article is part of the
DC Database
Recommended Reading
project, a series of articles written by our editors. They are meant as a guide to help both new and old readers, either getting into comics for the first time or looking to read more on their favorites. These should not be taken as a definitive guide; obviously you can start wherever and with whatever you want, but they're some general suggestions that we think you might find enjoyable.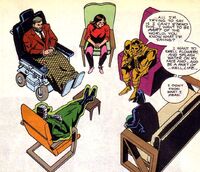 Doom Patrol is a super-team put together from freaks and outcasts who fight to protect a society that won't accept them as normal. Over the years they have met with many different deaths, resurrections and reinventions at the hands of good and bad writers. In the hands of less talented writers they appear to be nothing more than boring X-Men rip-offs, which is unfortunate considering they came first and provided inspiration to the latter team, albeit never reaching the same level of popularity. Written well they provide some of the most interesting, weirdest, surreal, and sublimely human stories in comic book history. This guide will hopefully help you distinguish between the two.
New readers
Further reading
Community content is available under
CC-BY-SA
unless otherwise noted.