Batman Character Guide [INTERACTIVE]
Play Sound
Looking for a different version of this character?
As a result of the New 52 in 2011, the entire line of DC characters was relaunched, incorporating properties belonging to the company's imprints: Wildstorm, Milestone, and Vertigo. As such, elements of this character's history have been altered in some way from the previous incarnation. For a complete list of all versions of this character, see our disambiguation page.
Doris Zuel is the giantess Giganta, a genius scientist and thief with the ability to increase her size to hundreds of feet in seconds. Her criminal activities have made her a regular foe of Wonder Woman.

History
Origin
As a child, Doris Zuel was bullied because of a rare blood disease. When she got older, she tried to cure herself with a radical procedure that gave her the power to change her size.[1]
Trinity War
Doris Zuel was among the many supervillains to join the Secret Society. She assisted the Vandal Savage and Signalman into tracking Pandora. When the three villains attacked Pandora, Pandora successfully subdued Giganta. After her first encounter with Pandora, Giganta returned for revenge. While facing Pandora, Pandora looked into Giganta's soul and learned of her past.[1]
Agent of S.H.A.D.E.
Giganta was recruited by agents of S.H.A.D.E. to serve as a supernormal asset, fighting vampires and other monsters. She was tempted by the offer of a pardon for her crimes almost as much for the chance to kill things.[2]
Rebirth
Some years later Giganta returned to her criminal ways and performed a series of museum robberies, stealing New Gods' artefacts for a benefactor unknown to her. She was eventually stopped by Wonder Woman and Steve Trevor and detained by A.R.G.U.S..[3] She would make deals with A.R.G.U.S. where she would lend them her aid in exchange for a reduced prison sentence. On one such occasion she was requested by Wonder Woman to help hunt titans in Colorado. While reluctant to help her former enemy, Giganta teamed up with Wonder Woman and manged to stop the titan attacks when they found out they were the result of an Amazonian sword which was recovered by a mortal bystander.[4]

Powers and Abilities
Powers
Size Alteration: Ability to increase her size to several hundred feet in seconds.
Abilities
Notes
Related
Footnotes
Justice League Villain

This character is or was primarily an enemy of the Justice League, in any of its various incarnations. This template will categorize articles that include it into the category "Justice League Villains."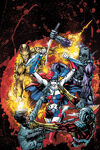 Suicide Squad member
This character is or was a member of the Suicide Squad, a team of imprisoned super-villains who perform high-risk missions for the U.S. Government in exchange for commuted sentences, in any of its various incarnations. This template will categorize articles that include it into the "Suicide Squad members" category.