Despite being the Joker's daughter, Duela was a superhero and a member of Titans East.

History
Little Archie
Duela went to the Batcave to find Robin, only to discover Archie Andrews instead. Batman found them and assumed Archie was Duela's brother. He called up Joker, but after after being informed Archie wasn't the son of Joker, Bruce decided to take them home, dropping them off at Pop's Chock-lit Shoppe in Archie's hometown of Riverdale. On the way there, she applied clown makeup to Archie. Raven and Sabrina Spellman combined their magic to cast a spell, with one of the side effects being the removal of Archie's magic. This saddened Duela, but when Zatara saw how disheartened she was, he cast a spell that not only gave everyone at Pop's clown makeup, but also Josie and the Pussycats outfits, and whoopee caps.[1]

Powers and Abilities
Abilities
Related
Quotations by or about Duela Dent (Tiny Titans)
Footnotes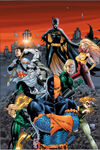 Titans East member

This character is or was a member of the Titans East in any of its various incarnations. This template will categorize articles that include it into the "Titans East members" category.