Batman Character Guide [INTERACTIVE]
Play Sound
Looking for a different version of this character?
As a result of the New 52 in 2011, the entire line of DC characters was relaunched, incorporating properties belonging to the company's imprints: Wildstorm, Milestone, and Vertigo. As such, elements of this character's history have been altered in some way from the previous incarnation. For a complete list of all versions of this character, see our disambiguation page.
Dr. Edgar Cizko, alias Doctor Psycho, is a powerful telepath.

History
He tried to gain the trust and insights in the powers of several young heroes, including Superboy and Raven. He was later recruited into the Secret Society of Super Villains, but his only mission was to serve as bait and fall guy in Kahndaq to lure the Justice League there.
Expand
This section of the article does not provide a complete profile of the subject. You can help out by providing additional information, expanding on the subject matter in order to bring this article to a higher standard of quality.

This template will categorize articles that include it into Category:Incomplete Articles.
Powers and Abilities
Powers
Weaknesses
Misogyny: Cizko has an exaggerated hatred and contempt for women in general, and he hates Wonder Woman most of all for she embodies female power and independence, coming from an island without men.

Paraphernalia
Equipment
Energy Amplifier (Destroyed): Psycho's powers allowed him to control the minds of only a limited number of people (one or two, maybe ten), but with an energy amplifier he is able to control thousands, managing to expand his mind control across entire cities.[6]
Notes
Related
Quotations by or about Edgar Cizko (Prime Earth)
Footnotes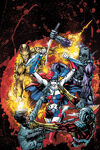 Suicide Squad member
This character is or was a member of the Suicide Squad, a team of imprisoned super-villains who perform high-risk missions for the U.S. Government in exchange for commuted sentences, in any of its various incarnations. This template will categorize articles that include it into the "Suicide Squad members" category.