Batman Character Guide [INTERACTIVE]
Play Sound
Looking for a different version of this character?
As a result of the New 52 in 2011, the entire line of DC characters was relaunched, incorporating properties belonging to the company's imprints: Wildstorm, Milestone, and Vertigo. As such, elements of this character's history have been altered in some way from the previous incarnation. For a complete list of all versions of this character, see our disambiguation page.
Emil LaSalle is Warp, a French super-villain with the ability to teleport himself and others at will. He often serves as an enemy to the Blue Beetle. He has been a member of the Brotherhood of Evil and the Secret Society of Super-Villains.

History
Warp was kidnapped and tortured by The Joker. He was then brainwashed by him using equipment from Mad Hatter. Joker used him to rescue a beaten Lex Luthor and told him to commit suicide somewhere remote.[1]
He was soon resurrected and joined the Suicide Squad. [2]

Powers and Abilities
Powers
Portal Creation: Warp is able to create portals to any location in the universe. He can send any one through these portals including himself.[3]
Notes
Related
Quotations by or about Emil LaSalle (Prime Earth)
Footnotes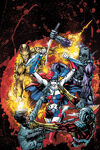 Suicide Squad member
This character is or was a member of the Suicide Squad, a team of imprisoned super-villains who perform high-risk missions for the U.S. Government in exchange for commuted sentences, in any of its various incarnations. This template will categorize articles that include it into the "Suicide Squad members" category.

Brotherhood of Evil member
This character was at some point primarily a member of the Brotherhood of Evil. An organization dedicated to conquering the world and destroying the Doom Patrol. This template will categorize any article that includes it into the Brotherhood of Evil members category.