Batman Character Guide [INTERACTIVE]
Play Sound
Looking for a different version of this character?
As a result of the New 52 in 2011, the entire line of DC characters was relaunched, incorporating properties belonging to the company's imprints: Wildstorm, Milestone, and Vertigo. As such, elements of this character's history have been altered in some way from the previous incarnation. For a complete list of all versions of this character, see our disambiguation page.
Faora Hu-Ul is a Kryptonian war criminal known for her association with General Dru-Zod. Relentlessly cruel towards all forms of life, Faora enjoys battle and murder and fully supports her commanding officer's ideals of conquest and destruction. For that, she has become an enemy of the hero Superman.

History
Origin
Faora was a member of Krypton's military forces who despised Krypton's ideals of peace and science and desired a return to the old days, when Krypton was a brutal militaristic empire. In time, she met Dru-Zod, a colonel who shared the same dream. Zod gathered a group of like-minded supporters, but he became especially interested in Faora because of her blood lust. Faora became complicit in Zod's engineering of a false flag operation, which triggered a war with the alien Char. Jor-El, an old friend of Zod's, discovered the deception and turned Zod over to the authorities. This resulted in the sentencing of Zod and his followers, Faora among them, to the Phantom Zone.[1]
But being trapped in the Zone would not mean the end of Zod's villainy or Faora's devotion to him. During their time within the Zone, Zod and Faora became acquainted with the Warworld, a humongous alien war machine and planned to use its endless armies to conquer the outside worlds. Their plan also involved the Kryptonian monster known as Doomsday, also a prisoner within the Zone. Zod and Faora released the beast from his captivity and threw him across the boundaries of the Phantom Zone, weakening them and allowing for their eventual escape.[2]
Arrival at Earth
Doomsday's actions allow for Zod's escape to planet Earth but Zod becomes separated from Faora, who remained trapped. To release her, Zod tricks Superman, Jor-El's son, into taking him to his Fortress of Solitude and giving him access to his Phantom Zone Projector, releasing Faora.[3] At first, Faora becomes aggressive and disoriented but exposure to Earth's yellow sun gives her superpowers and restores her sanity. Before long, Superman and his girlfriend Wonder Woman intercept them, engaging in combat. The Amazon Princess easily beats Faora, until Zod threatens to kill Superman unless they are allowed to leave, forcing her to let the Kryptonian criminals escape and ensure Superman's safety.[4]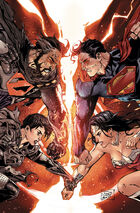 With Superman and Wonder Woman in retreat, Zod and Faora construct a Phantom Zone portal in the South Pacific, using stolen human technology. In all of a sudden, Superman and Woman return, wearing magic armor and seeking a rematch. Zod reveals his plan was that Doomsday would break the barrier between normal space and the Phantom Zone, facilitating an invasion from the War. Although the heroes initially defeat Zod and Faora by detonating their armors at point-blank range, Zod and Faora are empowered a direct beam of sunlight, sent by the Greek god Apollo, who sought revenge from an earlier defeat by Superman, even if it was by proxy. Zod and Faora brutally defeat their opponents and throw them into a nuclear reactor, believing they would no longer be a threat. But while Zod and Faora enter the Phantom Zone in order to liberate the Warworld, Superman and Wonder Woman manage to set off a large nuclear explosion that destroyed the portal, trapping Zod and Faora in the Zone once again.[2]
Much later, Batman and Wonder Woman travel to the Phantom Zone, hoping to a find a cure for Superman, who had become a new iteration of Doomsday. They stumble upon Non, who revealed Zod and Faora had mysteriously vanished after Doomsday was released from the Phantom Zone.[5]

Powers and Abilities
Powers
Kryptonian Physiology: Under the effects of a "yellow" sun, Faora possesses the same potential powers as an average Kryptonian. These include:
Abilities
Weaknesses
Kryptonian Physiology: Under the effects of a "yellow" sun, Faora possesses the same potential weaknesses as an average Kryptonian. These include:
Notes
Related
Quotations by or about Faora Hu-Ul (Prime Earth)
Footnotes