You don't kill as many people as I've killed and still sleep like a kitten if you feel shit like love.

— Deadshot
Floyd Lawton, better known as Deadshot, is one of the greatest marksmen on the planet. Level-headed, snarky, and aggressive, but with a sincere compassion with his daughter, he was a member of the original incarnation of the Suicide Squad.[1]

History
Powers and Abilities
Abilities
Notes
Trivia
Floyd's birthday is listed as December 4, 1987 on the A.R.G.U.S. official website, however in the film, his birthday is listed as April 12, 1987 on Amanda Waller's file.
Related
Character Gallery: Floyd Lawton (DC Extended Universe)
Footnotes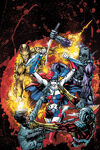 Suicide Squad member
This character is or was a member of the Suicide Squad, a team of imprisoned super-villains who perform high-risk missions for the U.S. Government in exchange for commuted sentences, in any of its various incarnations. This template will categorize articles that include it into the "Suicide Squad members" category.