Batman Character Guide [INTERACTIVE]
Play Sound
Galius Zed was a member of the Green Lantern Corps.

History
Origin
Galius Zed was quick-tempered and outspoken member of the Green Lantern Corps who was always first to volunteer for a mission. His teammates are inspired by his passion and determination in battle. Physically, he distinguished himself from other Lanterns by his over-sized cranium which comprised the bulk of his body mass. Like others of his race, Galius Zed did not possess a chest or abdominal area and his arms and legs extended directly from his head. He also had a third leg which protrudes from the back of his enormous head.
Always eager for a fight, Galius Zed believed the Guardians had betrayed the Green Lantern Corps when he learned of the existence of a special Oan power ring which was impervious to the color yellow. He recalled all of the good Corps members who had died due to weaponry colored yellow and personally held the Guardians accountable for failing to provide them with adequate protection.[1]
Galius Zed once journeyed to the planet Earth of sector 2814 to drive off an alien crime syndicate. However, Hal Jordan, one of the Lanterns assigned to that sector, felt Galius was invading his jurisdiction. Even though they once teamed up in the war against the renegade Guardian Krona, there is still animosity between the two.[2]
Darkstars
Following the (repeated) destruction of the Corps, Galius Zed had lost his ring and abandoned his career as Green Lantern. However, John Stewart invited him, along with other former Green Lanterns, to join the ranks of the Darkstars, which he eagerly accepted.[3] Galius was one of the remaining four Darkstars after the battle against Grayven, and he stayed on Ranagar to help rebuild the city.[4] He was killed shortly after.[5]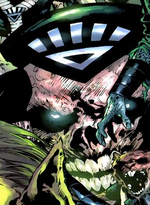 Galius Zed rose again as a Black Lantern during the Blackest Night.[6]
Expand
This section of the article does not provide a complete profile of the subject. You can help out by providing additional information, expanding on the subject matter in order to bring this article to a higher standard of quality.

This template will categorize articles that include it into Category:Incomplete Articles.
Powers and Abilities
Powers
Noc'sagian Physiology: Galius Zed comes from a race of beings who live on a high gravity planet in a high intensity galaxy. Such incredible pressure makes Galius and his people immensely powerful bodies despite their appearances.
Abilities
Paraphernalia
Equipment
Transportation
Weapons
Notes
Although this character was originally introduced during DC's Earth-One era of publication, their existence following the events of the 1985–86 limited series Crisis on Infinite Earths remains intact. However, some elements of the character's Pre-Crisis history may have been altered or removed for Post-Crisis New Earth continuity, and should be considered apocryphal.

Trivia
Zed's constructs are quick and powerful, they spring forth from his ring in quick whips and beams. He never spends too much time thinking of a elaborate creation.
Related
External Links
Footnotes


Darkstars member
This character is or was a member of the Darkstars, an intergalactic police force.
This template will categorize articles that include it into the "Darkstars category."