Glibberquip is a member of the Green Lantern Corps.

History
Death
During the Revolt of the Alpha Lanterns, Cyborg Superman tries to find a way to reverse the Alpha Lantern process and when Ganthet refuses he commands Alpha Lantern Glibberquip to destroy his own head. Before Ganthet can rethink his position, Cyborg Superman issues his command.

Powers and Abilities
Powers
Symbiotic Interface: With the enhancements that comes with being a member of the Alpha Lantern Corps, Glibberquip's mind can automatically interface with the Book of Oa.
Abilities
Paraphernalia
Equipment
Weapons
Oath
Related
Footnotes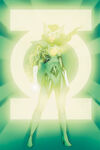 Alpha Lantern Corps member

This character is or was a member of the Alpha Lantern Corps in any of its various incarnations. This template will categorize articles that include it into the "Alpha Lantern Corps" category.
Community content is available under
CC-BY-SA
unless otherwise noted.